Bus Operators Earn $3,000 Sign-on Bonus

Metro bus operators are crucial to keeping LA on the move.​
When you get behind the wheel with us, you'll earn $20.49 to start, a sign-on bonus of up to $3,000 (terms and conditions apply), competitive pay and full benefits as you gain experience for a successful career in transportation and customer service.​
Enjoy Excellent Benefits
You'll earn a regular paycheck and much more. We believe the key to building one of LA's finest teams is to offer benefits that support employee well-being, stability and planning for the future—for you and your family.
Train and Learn Valuable Skills
You'll start with one of the best training programs in the industry. We train you to drive, and give you plenty of experience and opportunity to build a solid career in public transit. 
You Keep LA Moving
It's an important time to work at Metro. Bus operators are an essential part of helping transit riders safely get to work, health care, school and the destinations that matter for their quality of life.  
Salary: $20.49 – $27.31 per hour

Medical, dental and vision coverage

Paid time off/vacation
Retirement plan options 
Free Metro transit pass
Paid trainings and tuition reimbursement
What to Expect When You Apply Online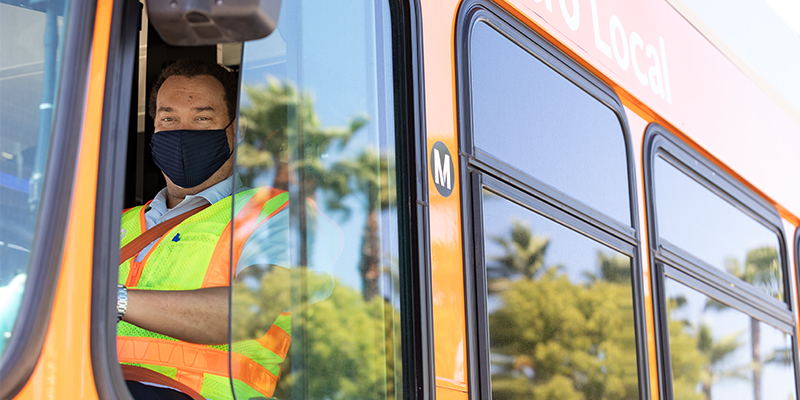 Step 1
Go to jobs.metro.net to apply online.
Step 2
If your skills meet the qualifications, we will contact you to schedule an interview. If you succeed in the interview, you must pass the following before you can start training:
Background check
Information session
Bus Operator Candidate Assessment Test (BOCAT)
Employment verification
Pre-employment physical exam
Step 3
Once you have cleared pre-employment, you will be scheduled for onboarding and eight weeks of paid training at Metro. During training, you will take a written exam and road test to obtain your Class B license.
New bus operators, hired on or after December 1, 2021, can earn a sign-on bonus, in the following amounts (terms and conditions are subject to change):
$1,500 upon passing probation
$1,500 awarded on the one-year anniversary of your hire date
Step 4
Your career journey begins out on the road!
Frequently Asked Questions
I applied online. What's next?

Our hiring team will contact you to schedule an appraisal interview. Please make sure your contact information is up-to-date in your Metro profile.
How can I find out about Metro's next hiring event? 
I recently attended a Metro hiring event. When can I start?

If you attended a hiring event and you have completed the interview, bus operator candidate assessment testing and processing, you should have received a contingent job offer with a tentative start date. If you did not receive one, please contact our hiring team by sending an email to recruitment@metro.net.
How much time does it take to complete the bus operator training program?

The bus operator training program may last between six to eight weeks.
What is the location and hours for the training program?

Training is held at our Operations Central Instruction facility located across the street from Metro's headquarters in downtown LA. Typical training hours are from 6am – 2:30pm.
Who can I contact about the status of my application?

Contact us by sending an email to recruitment@metro.net or by calling 213.922.6217 if you have questions about your application status. 
Stories From the Driver's Seat
Metro Job Alerts
Get the heads up on Metro's latest job opportunities.
Metro is an Equal Opportunity Employer
Metro does not discriminate on the basis of race, color, creed, ancestry, national origin, gender, marital status, sexual orientation, religion, age, veteran status or disability.