Sepulveda Transit Corridor Project
Metro is making strides to improve travel between the San Fernando Valley and the Westside.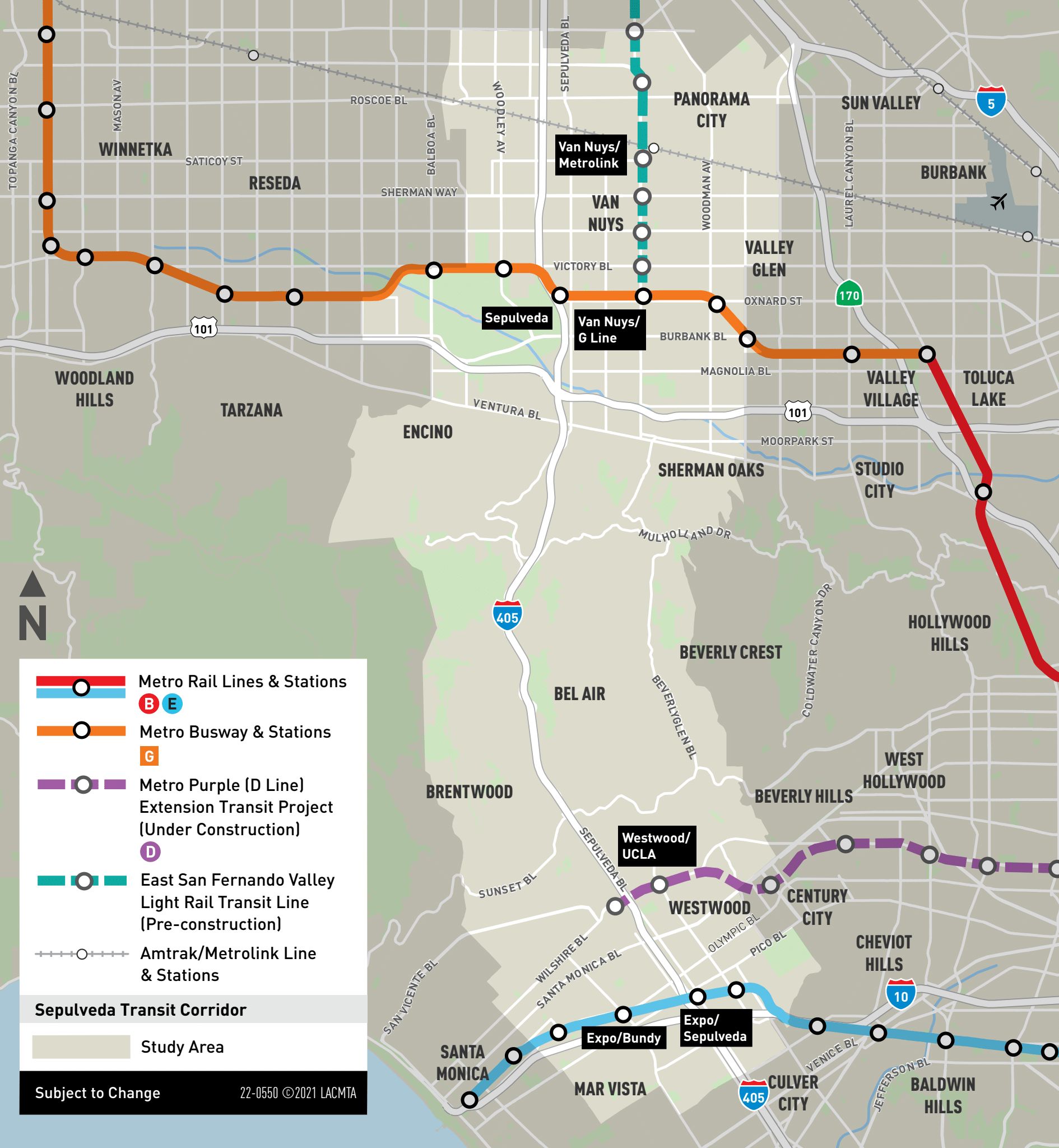 Phase:
Environmental Review
Forecasted Opening:
2033-2035 (service to connect the San Fernando Valley and the Westside)
Metro has a plan to make it easier to get around by creating better transit options between the San Fernando Valley and the Westside. The natural barrier created by the Santa Monica Mountains makes traveling between the Valley and the Westside challenging – and will require innovation and multiple solutions. Metro is working to evaluate alternatives for a high-quality, reliable transit service option connecting the San Fernando Valley and the Westside.
Environmental Study Updates
Metro is currently in the environmental review phase which began with scoping in late 2021/early 2022. Metro is currently advancing technical studies in support of the development of a Draft Environmental Impact Report (DEIR), pursuant to the California Environmental Quality Act (CEQA), to evaluate project alternatives that address the transportation needs of the Sepulveda Corridor. Metro is also developing a Planning and Environmental Linkages (PEL) study to engage federal agencies early in the environmental process and identify potential issues that will be further studied during the development of the project's Environmental Impact Statement (EIS) pursuant to the National Environmental Policy Act (NEPA).
The environmental review phase will consist of three components: 1) preparation of an Environmental Impact Report (EIR) in accordance with CEQA; 2) preparation of a PEL study as a collaborative approach with the Federal Transit Administration (FTA); and 3) preparation of an EIS in accordance with NEPA.
During the environmental review phase, Metro is also working with two private-sector teams, LA SkyRail Express and Sepulveda Transit Corridor Partners, under a first-of-its-kind pre-development agreement to develop a design for project alternatives.
Most recently in January 2023, Metro held community open houses to present information regarding potential station locations and how to access the future system.
For more information on potential station locations, please visit our interactive StoryMap. To view additional materials from the recent community open houses, click here.
To view materials from previous meetings, click here.