If you ride frequently, a monthly pass is a good value. Occasional bus riders, may prefer to pay cash for each ride to take advantage of our 35-cent off-peak fare.
How much does it cost for Seniors?
| Type | Fares |
| --- | --- |
| 1-Way | 75¢/35¢* |
| 1-Day Pass | $2.50 |
| 30-Day Pass | $20 |
| LIFE 30-Day Pass (low-income) | $12 |
*Off-Peak rates apply weekdays 9am – 3pm & 7pm – 5am; weekends & Federal holidays.
Fare payment with TAP includes 2 hrs of unlimited transfers to Metro rail and bus in one direction (no roundtrips).
For 1-Way Trip: Add'l 60¢ charge for the J Line (Silver) and the Express Bus Lines 460, 487, 489, 501, 550 and 577
Add'l charge for a transfer to non-Metro buses within 2.5 hours; varies by transit agency and requires Stored Value.
If using cash, please have exact fare when you board the bus. Metro bus operators do not carry change.
Two children under age 5 may travel free with each fare-paying adult on bus or rail.
Eating, drinking or smoking is not permitted in Metro stations, buses or trains.
Warning: Failure to pay the proper fare is a violation of Section 640 Penal Code and may result in a fine up to $250 and 48 hours community service.
1-Day Pass: Valid for 1 day on first tap. Expires at 3am on the following day after first use. Includes: All Metro services.
30-Day Pass: Valid for 30 consecutive days from the first tap. Expires at 3am on the day following expiration. 
TAP is a reloadable fare card that offers the most convenient and flexible way to pay your fare on Metro bus and rail.  It is also valid for travel with 25 transit agencies across LA County. Load, Tap and Go! Learn how to TAP.
How to get a Reduced Fare TAP card for Seniors
Get a temporary Reduced Fare TAP card right away at a Metro Customer Center.
Make sure you have proper documentation and an image of yourself in the correct size.
Gather all the requirements and apply online.  Seniors 62+ TAP cards will be mailed to eligible applicants within 20 business days after verification has been completed.
No need to fill out an application. Get your one-way Senior +62 single ride on a regular TAP card and get moving. Step-by-step TAP machine instructions.
You can only purchase a one-way ride at a senior fare price. Proof of eligibility is required when boarding a bus. Fare inspectors randomly check fares on rail. Be prepared to show your government-issued photo ID or your Medicare card and government-issued photo ID. To avoid having to show ID, you can apply online or in-person to get a Senior 62+ Reduced Fare card.
A TAP card costs $2 plus fare and includes transfers to Metro rail and bus. For additional TAP questions please visit taptogo.net or call 866.827.8646.
Buy a regular TAP card online
Register your TAP card by calling 866.TAPTOGO for:

Balance protection: If your card is lost or stolen you can recover the balance and transfer it to a new card.
Ability to transfer a remaining balance from one TAP card to another
Consolidation of remaining balances from several TAP cards to one
Exact change is accepted on buses that do not have All-Door Boarding. Transfers are not included.
To ride Metro Rail, you must pay with a TAP card.
Alert
Metro tokens are no longer accepted as payment.
Additional ways for Seniors 62+ to save when riding Metro
If you frequently ride Metro in combination with other transit systems, EZ Pass could provide additional savings. EZ Month Pass (zone 0) = $42 + $9.50 per add'l zone
Metro's Rider Relief Program is now the LIFE (Low-Income Fare is Easy) program. Qualifying riders can save even more on fares on Metro and participating transit systems with LIFE benefits.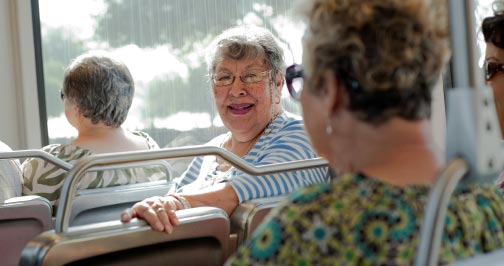 On The Move Riders Clubs located throughout LA County provide peer-to-peer training and outings for older adults to make mass transit a familiar and enjoyable means of independent travel.