East San Fernando Valley Light Rail Transit Project
Metro's plan for better transit includes more rail service in the heart of the San Fernando Valley.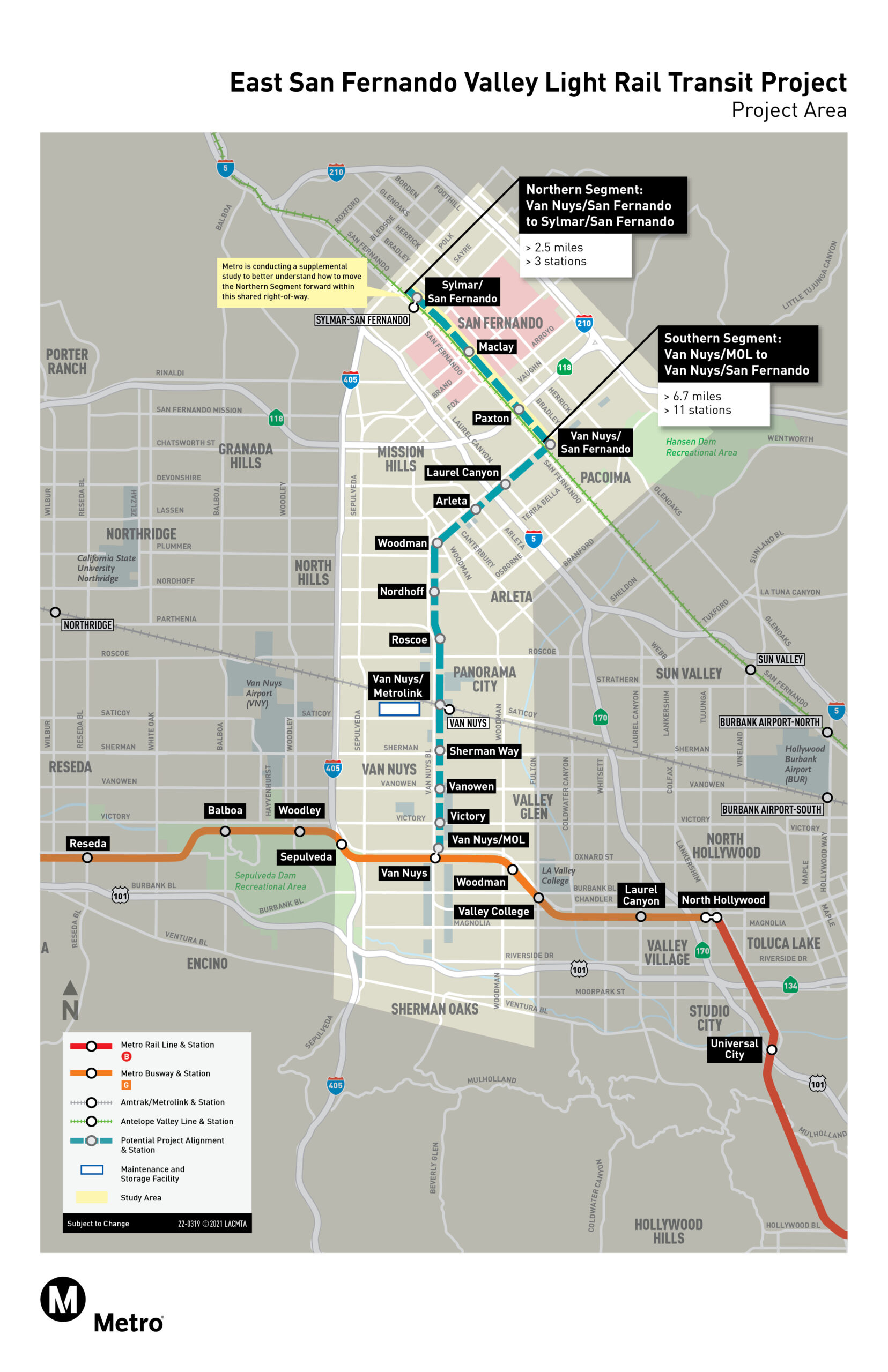 Location:
San Fernando Valley
Phase:
Design & Engineering
The East San Fernando Valley Light Rail Transit Project will improve connections and access to crucial destinations while connecting transit users to the growing network in the San Fernando Valley.  
Project at a Glance:  
Southern Segment:

A 6.7-mile at-grade alignment, includes 11 new transit stations and 10 traction power substations, and a new Maintenance & Storage Facility.

 

 

Northern Segment:

Metro is conducting a supplemental study anticipated for completion in 2024, to consider design options for the northern 2.5-mile segment, located from San Fernando Rd/Van Nuys Bl to Sylmar/San Fernando Metrolink Station.

 
Metro has completed the preliminary engineering design for the East San Fernando Valley Light Rail Transit Project and has awarded the Progressive Design Build (PDB) contract to San Fernando Transit Constructors (SFTCJV).  Notice to Proceed for Phase 1 Preconstruction Services was issued to SFTCJV in April 2023.    
The PDB delivery method approved by the Board in October 2021 brings the contractor and their designer into the project early, to take the design from approximately 30 to 60 percent to approximately 85 percent, while collaborating with Metro and Third Parties, and then prices the construction costs. 
In late 2022, Metro issued a contract to W.A. Rasic Construction Company, Inc. to relocate existing LADWP vaults and associated conduit infrastructure along Van Nuys Bl in advance of major construction. This work is ongoing and is anticipated to continue through late 2023 with third-party work to follow in 2024  
Metro's consultant Gannett Fleming, Inc. has completed field investigation work ahead of the construction of the East San Fernando Valley Light Rail Transit Project.  
Real estate activities have begun and are expected to run through 2027. 
Construction Schedule: 
Anticipated Southern Segment start of construction: mid-2024. 
Forecasted completion date: 2030 
For information about Metro Art and art opportunities visit metro.net/art 
For Eat Shop Play please visit metro.net/about/eat-shop-play/ 
For Business Solution and Business Interruption Fund visit metro.net/about/business-interruption-fund/ 
A new light rail transit that will operate in the center from the Van Nuys Metro Orange Line station north, with anticipated full build out to the Sylmar/San Fernando Metrolink Station (Southern Segment plus completion of proposed northern segment).

Read More