Whether you ride Metro often or are new to it, we have you covered with the lowest fare possible. Pay with a TAP card, Apple Wallet, TAP app or cash.
Prices are for a one-way trip on Metro bus and rail and include two hours of free transfers when you pay with a TAP card.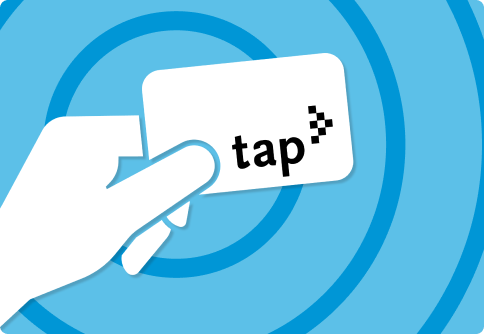 Pay with a TAP card, Apple Wallet, TAP app or cash.

Senior 62+ / Medicare / Customer with Disability
Enjoy up to 80% off regular Metro fares.

K-12 and Community College Students
Students at participating GoPass schools ride for FREE.

Works Across 
26 Agencies
Use one TAP card to pay your fare on 26 systems across LA County.

Register your card, so if your card is lost or stolen you can recover the balance and transfer it to a new card.

Get 2 hours of free transfers with each paid ride on a TAP card. 

Pay per ride and earn unlimited rides when you reach a 1-Day or 7-Day Cap.

TAP cards can be purchased at TAP vending machines (TVMs) located at all Metro rail, J and G Line stations.

TAP is sold at Ralph's, Northgate Market, Continental Currency and many more stores across L.A.

Buy TAP cards, load fare, create a TAP account on TapToGo.net.

TAP cards can be purchased at Metro Customer Centers.
Fare capping means you never pay more than a certain amount for rides within a specific time.
Once you pay that amount called a "cap" all rides on Metro buses and trains are free.
Metro has 1-Day and 7-Day Caps.
Fare capping works when you pay for rides with a TAP card or Apple Wallet.
Transit Reduced Fare Opportunities
Save up to 80% off regular Metro fares.
Commute Benefits can save employers and employees money on passes while also providing tax benefits for the employer.
Good for local travel on 23 different public transit carriers throughout the Greater Los Angeles region.
Riders with a valid California Electronic Benefit Transfer (EBT) card will receive a 50% discount on any Metrolink ticket or pass.