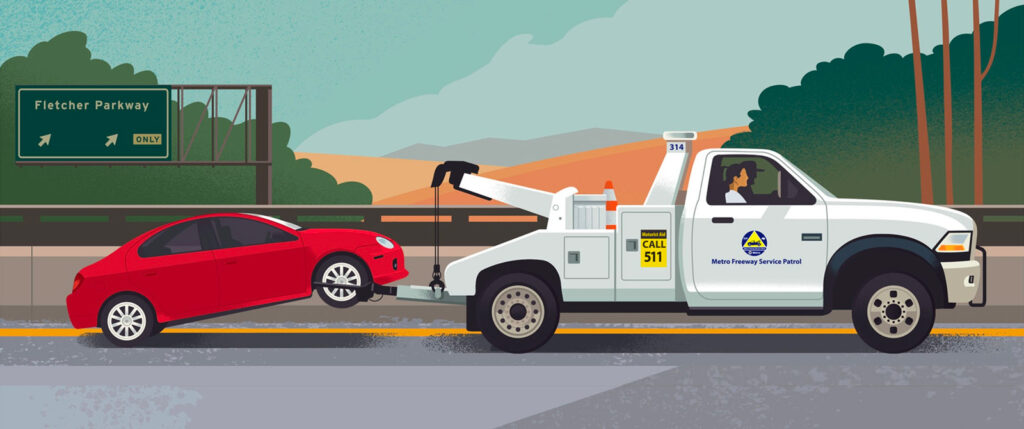 The Metro Freeway Service Patrol (FSP) is a congestion mitigation program managed in partnership with Metro, CHP and Caltrans on all major freeways in LA County, and is the largest of its kind in the nation performing approximately 25,000 assists each month. The program utilizes a fleet of roving tow and service trucks designed to reduce traffic congestion by efficiently getting disabled vehicles running again, or by quickly towing those vehicles off of the freeway to a designated safe location. Quickly removing motorists and their disabled vehicles from the freeway reduces the chances of further incidents caused by onlookers and impatient drivers. In addition, FSP helps save fuel and reduce air polluting emissions by reducing stop-and-go traffic.
The service is absolutely FREE to motorists. Simply call 511 and say "Motorist Aid" from your phone or call from a freeway callbox. The services include the following:
Changing flat tires
Jump-starting cars
Refilling radiators and taping leaky hoses
Providing up to a gallon of fuel
Towing disabled vehicles to designated safe locations off the freeway
Service provided on selected holidays.
FSP Contractors
| | |
| --- | --- |
| Tow Contractor  | Phone  |
| All City Tow Service  | 323-934-0404  |
| Bob's Towing  | 626-965-2407  |
| Bob & Dave's Towing, Inc.  | 562-693-9596  |
| Freeway Towing, Inc.  | 323-266-3355  |
| Girard & Peterson  | 818-843-8000  |
| Hadley Tow  | 562-692-3793  |
| Hollywood Car Carrier  | 323-913-4040  |
| Jon's Towing  | 818-771-1174  |
| Kenny's Auto Service  | 562-925-9531  |
| Mid Valley Towing, Inc.  | 818-503-1300  |
| Navarro's Towing  | 323-780-4911  |
| Neighborhood Towing 4 U  | 323-935-9900  |
| Platinum Tow & Transport  | 805-987-3345  |
| Reliable Delivery Service  | 562-945-2711  |
| Sonic Towing Inc.  | 213-622-6660  |
| South Coast Towing  | 323-881-0808  |
| Steve's Towing  | 909-980-3255  |
| T.G. Tow, Inc.  | 661-298-5464 ‎  |
| Tip Top Tow  | 310-314-4040  |