Our top priority is the safety of our riders and employees. The System Security and Law Enforcement Department is working continuously to ensure our customers and employees can ride and work safely, without fear, 100% of the time.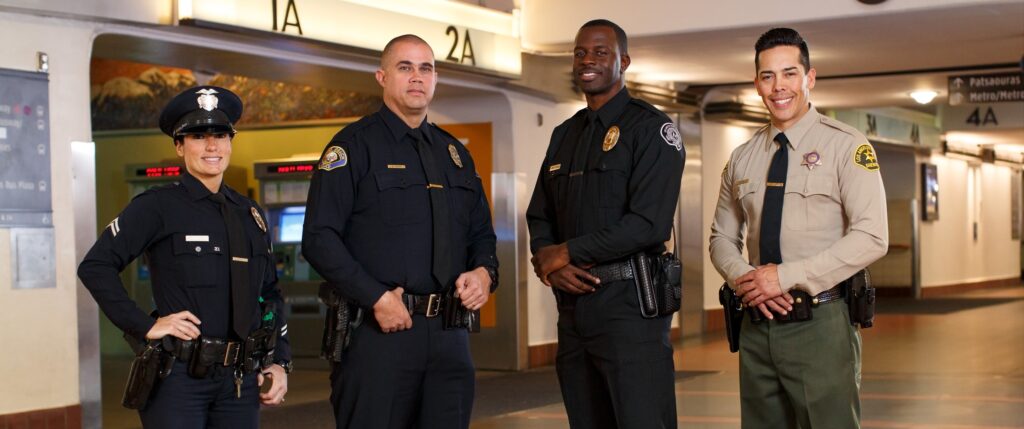 The real eyes and ears of the system are you. To contact Metro Security about an incident (non-emergency), a safety concern or suspicious activity:
In case of an emergency, always call 911.
Safety and security programs
Reimagining Public Safety 
Homeless Outreach 
Anti-sexual Harassment 
Human Trafficking Awareness
Safety tips for all riders
Never run after or next to a moving bus or train.
Don't play near buses, trains or tracks; pushing and shoving can cause accidents.
Hold on to your child when a train or bus approaches.
Wait for the vehicle to stop before approaching.
Wait for exiting passengers to leave, then board.
Watch your step, especially at night or in wet weather.
Take a seat if possible; use handrails/handholds.
Be ready to exit when you arrive at your stop.
Step away after exiting.
Know your route.

Plan your route ahead of time and leave early so you're not rushed. Have a backup route just in case there's a delay with your first plan.

Travel with a friend whenever possible.

When you stay together on board the bus or train, safety is in numbers.

Stay alert to what's going on around you.

Keep a look out for your stop. If you need to use your phone, look up from your screen often, and keep one earbud out so you can hear what's going on around you, too.

If you ever see someone acting in a way that makes you uncomfortable, move

away. Sit closer to the bus/train operator or switch to another bus or train car.

 
Hold on to your stuff.

Keep your phone, devices and any valuables in your bag. Be sure you take everything with you as you exit.

See something? Say something.

Know how to get help if you ever don't feel safe. If there's someone or something causing you to not feel safe, let us know and someone will respond right away.
Wait on the sidewalk away from the curb, not in or near the street.
When using bike racks, always stay in view of the bus operator.
When standing, stay behind the yellow line, not on the steps.
Keep all parts of your body inside the bus.
Exit through rear doors whenever possible.
If you drop something when exiting, leave it on the ground until the bus drives away.
Tips for Metro Rail riders
Always stand away from the edge of platform.
Don't skate or ride your bike on the platform, stairs or escalators.
Watch the gap between the platform and train.
Don't lean against train doors; keep hands clear.
Never climb railroad vehicles or walk on the tracks.

There is a crawl area underneath the platform that may provide some protection in the event of an accidental fall onto the track.
Cell phones, smartphones and other electronic devices are great ways to use your time on board, but they can be attractive targets for thieves.  These simple precautions can reduce your risk.
Be Alert. Most thefts are surprise grabs, with phones or other items taken from unsuspecting riders who may be engrossed in using them at that moment.
Be Secure. Put your phone away when getting on and off trains and buses. It's a prime time for thieves to strike.
Be Aware. Trains are a favorite venue for phone thefts due to the large number of passengers and exits.
Metro's law enforcement structure
As of July 1, 2017, Metro amended its law enforcement structure to include a multi-policing model inclusive of Metro's Transit Security Guards (TSOs) and contract security personnel. Metro's law enforcement model includes the: Los Angeles Police Department, Los Angeles County Sheriff's Department and Long Beach Police Department. This multi-agency approach will allow for higher visibility, enhanced response time, improved customer experience and deployment of specifically trained officers to engage patrons with mental illness and/or homelessness.
Metro System Security and Law Enforcement 2018 Annual Report
For general questions: 
Email: SSLE@metro.net