Meet Our Metro Ambassadors
Metro Ambassadors are here to support riders on Metro buses, trains and stations, connect you to resources and report maintenance and safety concerns. Metro Ambassadors are one part of our multilayer plan to improve public safety, combined with a team that includes security & law enforcement, homeless and mental health outreach workers and cleaning crews.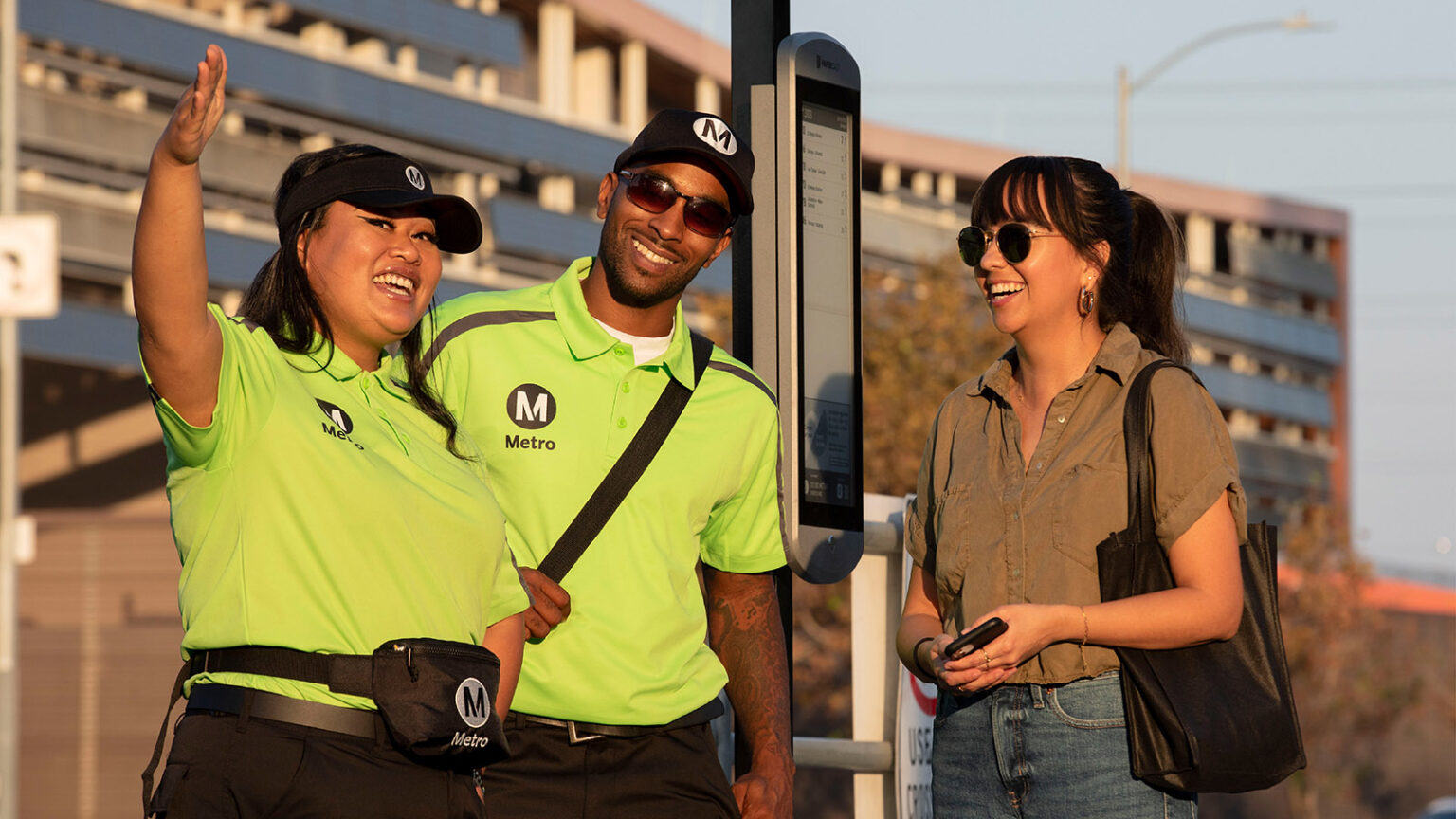 In 2020, Metro's Board of Directors voted to begin a process to reimagine public safety on Metro. The board asked the agency to re-envision transit safety in partnership with community leaders. With input from the Public Safety Advisory Committee and the community, the board approved a new approach to security in Dec. 2021 that put an emphasis on building trust with our communities and taking a multilayered approach to security. 
Metro is committed to improving our riders' experience and safety by adding more visible staff to our bus and rail system. As part of that commitment, we started rolling out the Metro Ambassador Pilot program in September 2022, which is a three- to five-year pilot. 
Metro Ambassadors are not security officers and do not replace existing security personnel or law enforcement. Rather, they are an added workforce that collaborates with other Metro departments in order to maintain public safety and help make the system feel safer for our riders. 
Metro Ambassadors are diverse and come from the communities we serve. They have lived experiences which make it possible for them to perform their job with empathy, respect and skill. 
Metro Ambassadors will: 
Support

you

as

you

navigate the system. Metro Ambassadors provide a welcoming and visible presence and provide support that

you

can rely on.

Connect

 you

to resources, be it directions to get

you

where

you

're going, info about how to pay

your

fare, or services available through our homeless outreach teams. Metro Ambassadors are here to help.

Report any maintenance, cleanliness or safety issues such as a broken escalator, a mess on a bus or train or a safety incident. Metro Ambassadors are our eyes and ears on the system that help us to respond to issues more quickly.  
Metro Ambassadors are moving across our bus and rail system. You can always spot them in their lime green polo shirts and black pants. Say hello!
Let Us Know How We're Doing
The Metro Ambassador program is a pilot, which will continue for the next three to five years. We welcome your feedback and want to hear about your experience! Leave us a comment, or contact us at transitambassadors@metro.net.  
How do I become a Metro Ambassador?
Metro Ambassadors are just that: ambassadors of the incredible talents, diversity and stories being told right here in LA County. If you enjoy teamwork, problem-solving and creating meaningful connections while giving back to the broader community, let's talk. The Metro Ambassadors are contracted by RMI International Inc. and Strive Well-Being Inc., and we're particularly interested in candidates from communities of color, people with disabilities and from backgrounds impacted by homelessness. All Metro Ambassadors go through a rigorous training program and are paid competitive wages.
To receive more information about the Metro Ambassador program and inquire about current and future open positions, please contact Strive Well-Being directly at HR@StriveMetro.com or RMI International at jobs@rmiintl.com.