LA Metro Transit Watch app
See or experience something that needs our attention? The LA Metro Transit Watch app is a quick, easy and anonymous way for you to directly connect to Metro Security anytime. Use the app to report suspicious activity or safety issues.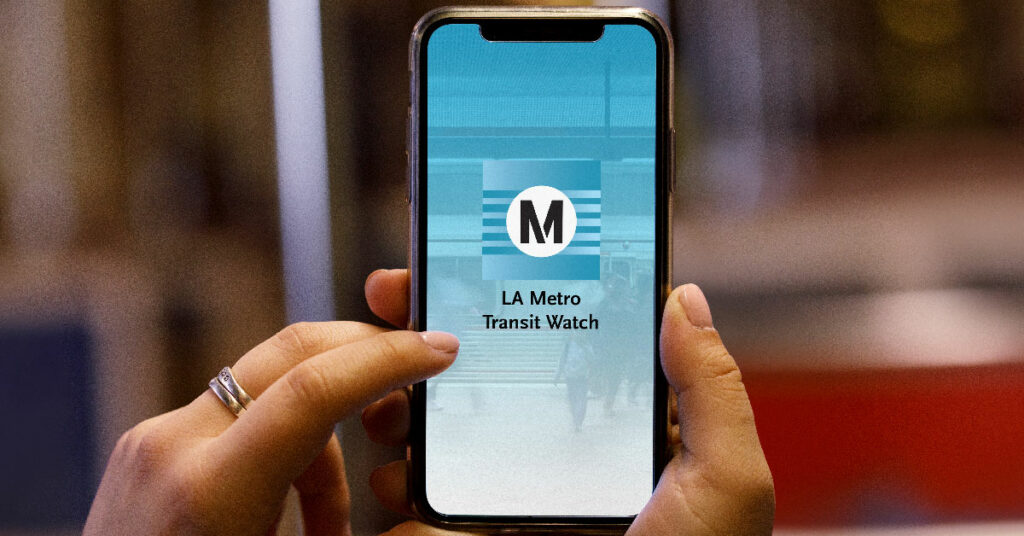 Use the app to contact Security
Features
Use the app to contact Metro Security by text message or phone call
Submit a report and upload a photo
Metro Security is monitoring messages 24/7
Get push notifications with critical alerts from Metro
Spanish language support 
Let's keep Metro safe for everyone.
Help us by reporting any safety issues by using the app, or call 888.950.SAFE or text 213.788.2777. 
Getting started, step by step
After you download the app to your phone, you can create an account (optional). Press "First time" to sign up and create an account password.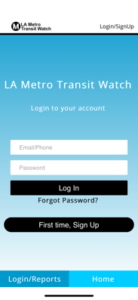 How to fill out a report about a non-emergency issue
Tell us about what you saw and heard, using each section in the app's report form.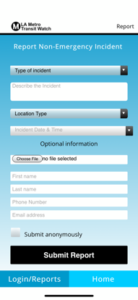 Details can help us move fast to identify and deal with an issue. Please provide:
WHO and WHAT: Describe the incident and/or person
WHERE: Indicate the location type (Bus, Rail, Station, Rapid Busway)
How to include a photo with your report
If you were able to take a picture, click on the button "Choose File," and upload a photo from your Photo Library or choose "Take a Photo."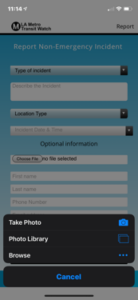 Let us follow up with you or choose to submit anonymously
When you submit a report, you will have the option to submit it anonymously or you can provide us your contact information. We will contact you if there's a need to follow up for more details that could help us address the issue.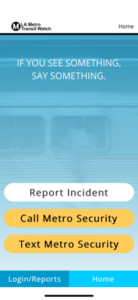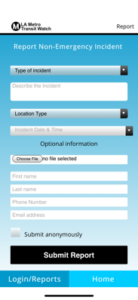 Download the LA Metro Transit Watch app now.
LA is better when we ride safely together.
Metro Security 
Call: 1.888.950.7233
Text: 213.788.2777
In case of emergency, call 911.