Apply for the College/Vocational TAP card to qualify for Reduced Fare. Or check to see if your school is part of the U-Pass program.
As of  July 1, Metro put a cap on how much riders pay for bus and rail. It's called fare capping.  Which means the more you ride, the more you will save. Learn more here.
How much does it cost for College/Vocational Students?
| Type | Fare |
| --- | --- |
| Base Fare | 75¢ |
| 1-Day Cap | $2.50 |
| 7-Day Cap | $6 |
| U-Pass (participating schools only) | varies |
Fare payment with TAP includes 2 hrs of unlimited transfers to Metro rail and bus in one direction (no roundtrips).
Add'l charge for a transfer to non-Metro buses within 2.5 hours; varies by transit agency and requires Stored Value
If using cash, please have exact fare when you board the bus. Metro bus operators do not carry change.
Two children under age 5 may travel free with each fare-paying adult on bus or rail.
Eating, drinking or smoking is not permitted in Metro stations, buses or trains.
Warning: Failure to pay the proper fare is a violation of Section 640 Penal Code and may result in a fine up to $250 and 48 hours community service.
30-Day Pass: Valid for 30 consecutive days from the first tap. Expires at 3am on the day following expiration. Add'l 75¢ charge for the J Line (Silver) and the Express Bus Lines 442, 460, 487, 489 , 501, 550 and 577.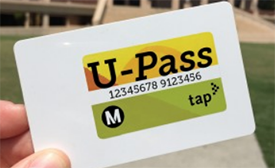 TAP is a reloadable fare card that offers the most convenient and flexible way to pay your fare on Metro bus and rail.  It is also valid for travel with 25 transit agencies across LA County. Load, Tap and Go!
How to get a reduced fare TAP card as a College/Vocational Student
First check to see if your college is already a part of the U-Pass program for greater savings.  If not, apply for the Reduced Fare College/Vocational TAP card online to qualify for Reduced Fare.
If your school participates in this program, U-Pass is the quickest and most economical choice.
Metro is partnering with a growing number of colleges to offer reduced fare to a broader range of college students. Participating colleges expedite the process by administering the U-Pass enrollment and TAP stickers.  Rates will vary depending on each college's fare subsidy program and will either match the College/Vocational Reduced Fare TAP card rate or provide even greater savings.
Apply at a Metro Customer Center.
Make sure you have proper documentation and an image of yourself in the correct size.
College/Vocational hard copy application and requirements:
Gather all the requirements and apply online. College/vocational TAP cards will be mailed to eligible applicants within 20 business days after verification has been completed.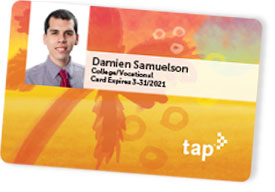 Alert
Metro tokens are no longer accepted as payment.
Metro's Rider Relief Program is now the LIFE (Low-Income Fare is Easy) program. Qualifying riders can save even more on fares on Metro and participating transit systems with LIFE benefits.