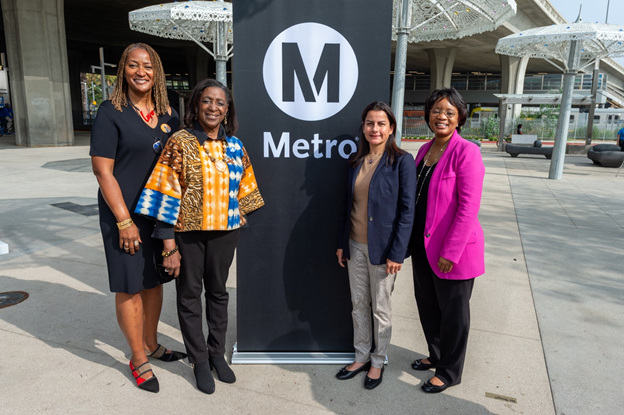 The Los Angeles County Metropolitan Transportation Authority (Metro) held a celebration event today for the recently rebuilt and now state-of-the-art Willowbrook/Rosa Parks Station, one of the busiest in the agency's transit system. Among the officials attending were Metro Board Member Holly Mitchell, U.S. Congressmember Nannette Diaz Barragán, Metro Board Second Vice Chair Jacquelyn Dupont-Walker and Metro CEO Stephanie N. Wiggins.
Other local organizations participating in the event included the Charles Drew University and Wilmington Inclusion Network (WIN), a local resource and training center, the East Side Riders Bike Club and the Los Angeles Sheriff's Department Transit Service Bureau. Metro also helped riders sign up for discounted Low-Income Fare Is Easy passes. Metro and its community health partners provided a pop-up vaccine clinic for residents.
Earlier this year, the Willowbrook/Rosa Parks Station underwent a $129-million modernization. Improvements included an extended platform for A Line (Blue) trains, a new southern at-grade pedestrian crossing, an expanded mezzanine to expedite transfers between the A and C (Green) Lines, digital signs with real-time transit information, enhanced security systems, LED lighting and renovated stairs and elevators. These improvements benefit one of the most underserved communities of Los Angeles County.
"Metro has transformed this transit hub into a safe, easy-to-navigate and comfortable facility that has become the pride of this community," said Metro Board Chair and Chair of the L.A. County Board of Supervisors Hilda L. Solis. "We will continue to invest in transit facilities as part of our State of Good Repair Program, which directly benefits communities that most need improvements — our bread-and-butter customers who depend on our transit services every day for work, medical services, education, shopping and entertainment."
The Federal Transit Administration provided Metro with a Transportation Investment Generating Economic Recovery (TIGER) discretionary grant for the implementation of the Willowbrook/Rosa Parks Station Master Plan. The nationwide competitive grant program creates jobs by investing in transportation infrastructure through local governments and transit agencies like Metro.
"The state-of-the-art transit hub, for which the U.S. Department of Transportation provided a $10 million grant, steps up the experience in one of the region's most underserved communities," said Federal Transit Administration Region IX Administrator Ray Tellis. "We are pleased to support this station renovation, which will go far toward improving safety and accessibility for all who ride Metro."
Other station improvements include a new public plaza, the Rosa Parks Customer Center, Transit Security and Transit Court, a full-service Mobility Hub, wayfinding and signage upgrades, a new pick-up and drop-off zone, nine new regional and local bus bays, a new protected bike lane, a modernized park-and-ride lot with new electric vehicle charging stations and a pedestrian promenade connecting busy Wilmington Avenue to the station. Two new site-specific artworks now honor the area's history and offer an inviting transit experience for the Wilmington and South L.A. communities.
"The Willowbrook/Rosa Parks Station is now one of the premier transit hubs in our county, connecting residents from South Los Angeles to employment centers, schools, and tourist attractions in downtown Los Angeles, Long Beach, and beyond," said U.S. Congresswoman Nannette Diaz Barragan. "With significant federal funding, this station was transformed from an outdated, unsafe transit stop to a state-of-the-art mobility hub for the future."
The Willowbrook/Rosa Parks station is currently the second busiest light rail station on the Metro System after 7th Street/Metro Center in downtown Los Angeles.
Metro will add Bus Line 53 (Central Av) to the Willowbrook/Rosa Parks Station in December 2021. More bus lines are planned to serve the station in 2022.
"We now have a beautiful, bright, and modern station with all the bells and whistles, just as our customers deserve," said Metro CEO Stephanie Wiggins. "This state-of-the-art customer service center is definitely an asset for Willowbrook and beyond."
The station provides Metro riders with access to key destinations including the Martin Luther King Jr. Medical Campus, the Charles Drew University of Medicine and Science and the Kenneth Hahn Plaza Shopping Center. The renovations were part of Metro's New Blue Improvements Project that included a $350-million overhaul of the entire A Line (Blue).
About New Metro Signage and Artworks
Metro implemented a comprehensive environmental graphic design program for the station. Components ranged from station signage visible from major highways to a plaque honoring the memory of the station's namesake, Rosa Parks. Elements include new signage, wayfinding, and customer information displays for the station platforms, mezzanine, public plaza, bus bays, Mobility Hub, and the Rosa Parks Customer Center.
Additionally, two new artworks were commissioned by Metro for the station. The first is Gifts of Freedom and Knowledge, a photo mural by artist George Evan that is located above the Rosa Parks Customer Center window. The mural celebrates South Los Angeles' distinct neighborhoods, personalities, landscapes and cultural traditions.
The second artwork is Second Line, a grouping of sculptural parasols by artists Jamex and Einar de la Torre. The artwork celebrates Rosa Park's legacy while offering shade and providing a focal point to the plaza.
For more information on Metro Art programs, including newly refurbished artworks at this station, please visit metro.net/art and follow Metro Art on Instagram and Facebook.
For more information on project improvements, visit metroexemplifi.wpengine.com.
ADDITIONAL QUOTES:
"The Willowbrook/Rosa Parks station is a vital gateway for the surrounding community, providing better access to local destinations such as the Martin Luther King Jr. Medical Campus, the Charles Drew University of Medicine and Science and the Kenneth Hahn Plaza Shopping Center," said L.A. County Supervisor and Metro Board Member Holly Mitchell. "These improvements provide significant upgrades and expand the multimodal capacity of this station, allowing pedestrians, bicyclists, roller skaters and others to more easily access this station."
"Ridership in the Metro Bus and Rail system is coming back. The Willowbrook/Rosa Parks Station is now poised to better accommodate this ridership growth as we continue to recover from the worst impacts of this pandemic," said L.A. County Supervisor and Metro Board Member Janice Hahn.
"Today we are here celebrating Rosa Parks legacy at this station that evokes so many things which Rosa Parks stood for: namely, racial equity and social justice," said Metro Board Second Vice Chair Jacquelyn Dupont-Walker. "I proudly can say that Metro has invested significantly in this important station, not only for the South Los Angeles community but for everyone who travels on the Metro Bus and Rail System through this area."
Editor's Note: Metro Operators are crucial to keeping LA moving. Metro is currently hiring more than 500 bus operators and is offering a $1,000 bonus for coming aboard. This is a great career opportunity. Metro offers competitive hourly rates starting at $17.75 for part-time bus operators and benefits include health insurance, tuition reimbursements, paid training, retirement plan options and part-time flexible hours. Please encourage friends, family and community members to become a part of the Metro team that provides excellence in service and support and keeps our region moving. Apply at metro.net/driveLA.
About Metro
The Los Angeles County Metropolitan Transportation Authority (Metro) is currently providing lifeline service for essential trips and frontline workers. Metro continues building the most ambitious transportation infrastructure program in the United States and is working to greatly improve mobility through its Vision 2028 Plan.
Metro has proudly pledged to the American Public Transportation Association (APTA) Health and Safety Commitment Program to help ensure the safe return of transit riders as the U.S. recovers from the COVID-19 pandemic.
Stay informed by following Metro on The Source and El Pasajero at metro.net, facebook.com/losangelesmetro, twitter.com/metrolosangeles and twitter.com/metroLAalerts and instagram.com/metrolosangeles.