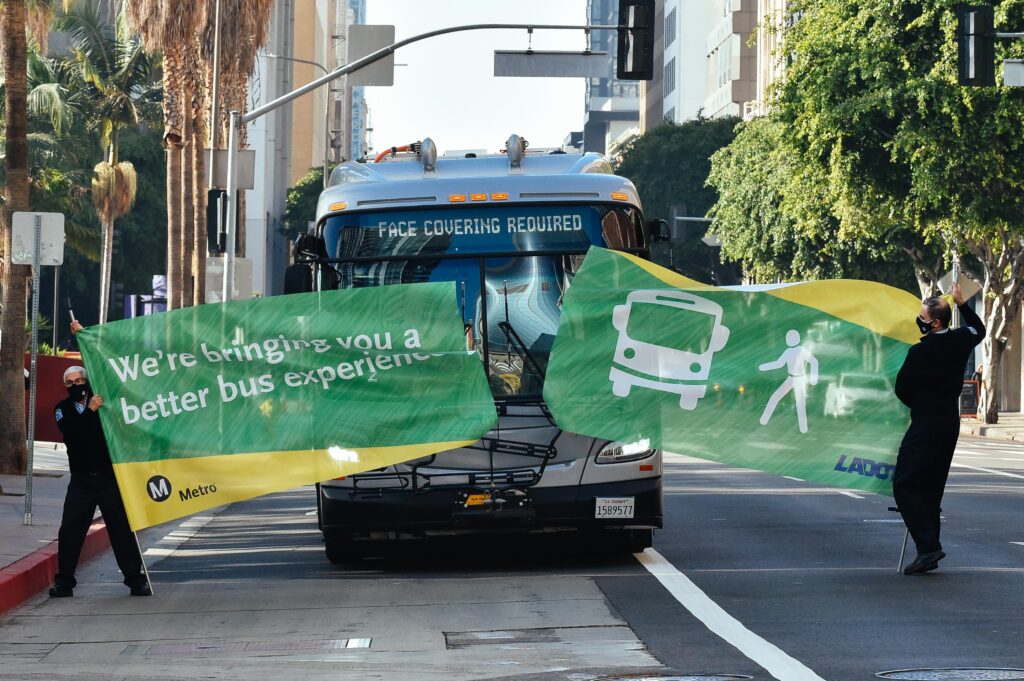 The Los Angeles County Metropolitan Transportation Authority (Metro), the City of Los Angeles, and the Los Angeles Department of Transportation (LADOT) have partnered to help speed bus service for transit customers during weekdays with the launch of two new bus priority lanes on Grand Avenue and Olive Street in downtown L.A.  These lanes will run along southbound Grand Avenue from Hope Place to Pico Boulevard and along northbound Olive Street from Pico Boulevard to 2nd Street.
"The Grand Avenue and Olive Street dedicated bus priority lanes will enhance mobility and safety for the thousands of people who rely on public transit each day to get to and from school, work, shops, and appointments along these busy corridors," said Hilda L. Solis, Metro Board Chair and Los Angeles County Board of Supervisor to the First District. "These bus lanes directly support the low-income households that use these corridors for travel, half of whom fall below the poverty line."
In a recent survey of more than 300 bus riders along this corridor, 7 in 10 riders told Metro they experience delays or reliability issues in this area. Nearly every rider said they would use the bus more if Metro could improve trip times. Additionally, nearly 9 in 10 surveyed bus riders along this corridor reported that they ride every day or every week.
"We expect these dedicated lanes to improve bus speeds by up to 15 percent, which means getting our riders to their destinations faster and greatly enhancing the customer experience through better service reliability," said Metro CEO Stephanie N. Wiggins. "We want to build on the success of our earlier bus priority lanes in downtown Los Angeles to make Metro the best transportation option for Angelenos and visitors alike."
Bus priority lanes allow Metro to increase service frequency and reliability along the corridor, improving mobility by moving more people without requiring significant infrastructure.
How the Lanes Work
The right-most traffic lanes on each street have been converted into bus priority lanes on weekdays from 7 a.m. to 7p.m.
Buses would run as frequently as every 60 seconds with the many bus routes that use these lanes, including the Metro J Line (Silver).
There would be virtually no loss of parking spaces, as there was sufficient room to maintain curbside parking next to the bus lanes
"Our bus network is the backbone of our transportation system, and these bus lanes are a clear next step toward faster and more reliable service, higher ridership, and lower emissions," said Mayor Eric Garcetti. "We are working tirelessly to make our system work better for Angelenos, and this project is a clear example of the type of improvements that will take Angelenos where they need to go faster, and more safely and sustainably."
The benefits for street users include reducing opportunities for speeding and unsafe lane changes by motorists. The project also maintains virtually all existing street parking for residents along the corridor and provides quick and easy access for workers and visitors to jobs, businesses and other locations along the corridor.
"More working families than ever rely on our public transit system to get to and from work, school, doctors' appointments, and so much more," said Los Angeles Councilmember Kevin De León. "That's why improvements to our transit system are so essential. I'm very excited to see the expansion of priority bus lanes along Grand Avenue and Olive Street in DTLA allowing riders to get to their destinations faster and where all of us can benefit from reduced emissions that will improve the air we breathe."
Metro has been working closely with LADOT to implement a series of bus priority lanes along heavily traveled corridors. This phase of NextGen calls for the addition of hundreds of additional bus trips on weekdays and weekends, with a focus on adding much-needed bus service during the mid-day periods to provide all day, frequent service.
"Our partnership with Metro is transforming how people move through Downtown L.A. and beyond," said LADOT General Manager Seleta Reynolds. "Bus lanes move more people, more quickly to ease congestion and make it more enjoyable to get around the city."
This project is one of the many recommendations resulting from the Bus Speed Engineering Working Group, authorized by the Metro Board of Directors and the Los Angeles City Council in July 2019. It is a collaborative effort between Metro, the office of Mayor Garcetti, the office of Councilmember De Leon and LADOT to identify, design, fund and implement transit-supportive infrastructure to improve service as part of Metro's NextGen Bus Plan and the agency's Vision 2028 Plan.
In June 2021, Metro and the City of Los Angeles launched bus-only lanes along Alvarado Street between MacArthur Park and Echo Park.
For more information on the Grand Avenue and Olive Street Bus Priority Lane Projects, visit: metro.net/grand-av-olive-st
Editor's Note: Metro Operators are crucial to keeping LA moving. Metro is currently hiring more than 500 bus operators and is offering a $3,000 bonus for coming aboard. This is a great career opportunity. Metro offers competitive hourly rates starting at $17.75 for a 30-hour job as bus operators with benefits that include health insurance, tuition reimbursements, paid training, retirement plan options and flexible working hours. Please encourage friends, family and community members to become a part of the Metro team that provides excellence in service and support and keeps our region moving. Apply at metro.net/driveLA.
About Metro
The Los Angeles County Metropolitan Transportation Authority (Metro) is currently providing lifeline service for essential trips and frontline workers. Metro continues building the most ambitious transportation infrastructure pro
gram in the United States and is working to greatly improve mobility through its Vision 2028 Plan.
Metro has proudly pledged to the American Public Transportation Association (APTA) Health and Safety Commitment Program to help ensure the safe return of transit riders as the U.S. recovers from the COVID-19 pandemic.
Stay informed by following Metro on The Source and El Pasajero at metro.net, facebook.com/losangelesmetro, twitter.com/metrolosangeles and twitter.com/metroLAalerts and instagram.com/metrolosangeles.