May numbers represent the sixth consecutive month of year-over-year ridership growth
The Los Angeles County Metropolitan Transportation Authority (Metro) today shared that in May the agency had a 16 percent year-over-year increase in ridership with nearly 25 million boardings, marking the sixth consecutive month of ridership growth. These numbers indicate that almost 900,000 riders used bus, rail and micro transit systems each weekday during the month. Additionally, on the weekends, the agency saw average Saturday boardings at more than 84 percent of pre-pandemic levels and Sunday boardings at over 90 percent of pre-pandemic levels (633,338/Saturday and 522,199/Sundays) during May.
"People are seeing the steps Metro is taking systemwide to improve safety and the customer experience, and they are choosing public transportation once again," said Glendale City Council Member and Metro Board Chair Ara J. Najarian. "With our new Ambassadors helping riders navigate their trips, the increased number of Transit Security Officers, and additional law enforcement, riders see and feel Metro's commitment to them."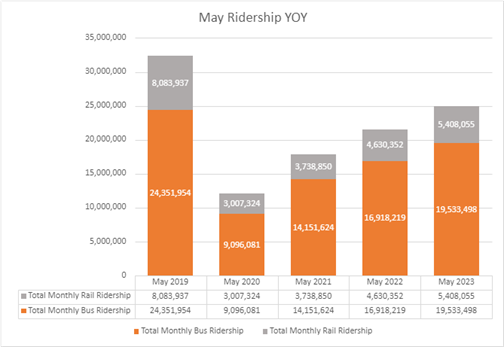 Nearly 20 million (19,533,498) rides were taken on Metro buses during the month, along with more than 5.4 million (5,408,055) rides on the rail system. Almost 110,000 more rides were taken each day this May compared to last May. That's nearly 3.4 million more rides delivered to customers throughout our system in May 2023 compared to May 2022.Total ridership is now at 77 percent of 2019 levels.
The overall trend post-pandemic shows ridership recovery on the weekends continues to outpace recovery on weekdays. Metro has now recovered 88 percent of its pre-pandemic ridership on weekends on both bus and rail, compared to 74 percent on the weekdays.
The ridership growth on rail was led by weekday gains on the B Line (Red)/D Line (Purple) subway. Average Weekday Ridership on the subway B Line and D Line is up more than 20 percent year-over-year, and up 11.5 percent since January 2023.
"Earlier this year, we noted unacceptable increases in drug use and crime on the system, particularly on the B and D lines, and acted quickly to address them, including pilot mitigations at the Westlake MacArthur Park station, as well as surges in visible law enforcement, transit security and Metro Ambassador presence," said Stephanie Wiggins, Chief Executive officer of Metro. "We are earning riders back through our deliberate efforts to improve service, reliability, convenience and the user experience. We know we have more to do to ensure the system consistently addresses cleanliness and safety concerns. This continues to be our number one priority."
Metro has also taken steps to ensure its transit service is safe, friendly, fast and frequent by:
Implementing a new multi-layered public safety approach to increase the visible presence of both armed and unarmed security and customer care personnel on the system.
Executing a Drug-Free Metro campaign focused on drug-related crimes with increased enforcement by our law enforcement partners targeting the hotspots throughout the system resulting in cleaner, safer transit experiences for our riders
Engaging more than 300 Metro Ambassadors to help customers navigate the transit system and improve their experience.
Hiring more than 1,000 new transit operators to ensure adequate staffing levels for buses and trains.
And fully restoring bus service making many lines faster and more frequent.
Metro also continues to provide more accessible and affordable transit through its fareless and reduced-price transit pass programs. Metro's GoPass program, offers free transit passes to K-12 and community college students in participating schools, and Metro's Low-Income Fare is Easy (LIFE) program, gives free rides and discounted fares to people with low incomes.
About Metro
The Los Angeles County Metropolitan Transportation Authority (Metro) is building the most ambitious transportation infrastructure program in the United States and is working to greatly improve mobility through its Vision 2028 Plan. Metro is the lead transportation planning and funding agency for L.A. County and carries nearly 900,000 boardings daily on a fleet of 2,200 low-emission buses and six rail lines.
Stay informed by following Metro on The Source and El Pasajero at metro.net,
facebook.com/losangelesmetro, twitter.com/metrolosangeles and twitter.com/metroLAalerts and