First Game is Home Opener Against Arizona Diamondbacks Scheduled for
Thursday, March 30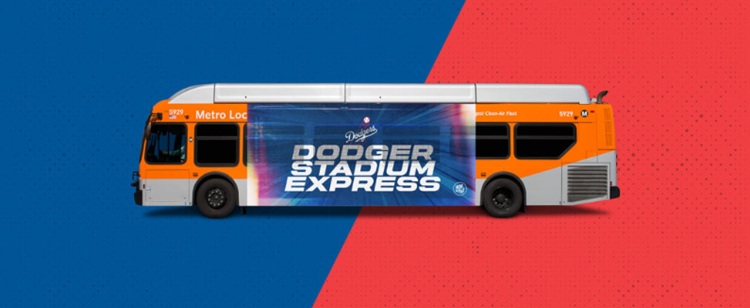 The Los Angeles County Metropolitan Transportation Authority (Metro) will provide free Dodger Stadium Express bus service again this year for baseball fans attending this season's Dodgers home games.
The Dodgers' kickoff home game against the Arizona Diamondbacks will be Thursday, March 30. Metro's Dodger Stadium Express buses will be available from both Los Angeles Union Station in downtown L.A. and from the South Bay Harbor Gateway Transit Center in Gardena.
Fans can ride the Dodger Stadium Express to the game for free. However, regular fares apply on all other connecting bus and rail services.
Los Angeles Union Station Service
The Dodger Stadium Express from Los Angeles Union Station will pick up fans about every 10 minutes in front of Union Station West adjacent to Alameda Street near the taxi zone. Service from Union Station begins 90 minutes prior to the start of the game through the end of the second inning. Return service runs until 45 minutes after the final out or 20 minutes after post-game events.
Passengers can use two stops at the ballpark – either behind center field or at the top deck.
Harbor Gateway Transit Center Service
From Harbor Gateway Transit Center, fans can board buses located at Bay 9, with buses running every 30 minutes. Fans can board at Harbor Gateway Transit Center or any of the following stations: Slauson, Westchester, Harbor Freeway and Rosecrans. Service from the Harbor Gateway Transit Center begins two hours prior to the start of the game and ends 45 minutes after games are over or 20 minutes after a post-game event.
Fans will be dropped off behind right field at Dodger Stadium. Buses back to Harbor Gateway Transit Center will pick up customers at the same location after the game.
Both Dodgers Stadium Express services will utilize a dedicated bus lane on Sunset Boulevard, where game day traffic congestion is the heaviest. Metro has partnered with the Los Angeles Department of Transportation (LADOT) for traffic mitigation support that will help expedite trips to and from games. The Harbor Gateway uses the ExpressLanes on the 110 freeway to speed up trips to the stadium.
Customers are encouraged to use the many transportation alternatives that serve Union Station to connect them with the Dodger Stadium Express, including Metro Rail, Metrolink, Amtrak and municipal bus operators. Plan your trip online at https://lbt-preprod.la-metro-web.net/riding/trip-planner/. The Harbor Gateway Transit Center is served by several Metro bus lines, the Metro J Line (Silver) and Torrance Transit.
Partial funding for The Dodger Stadium Express is provided under a grant from the Mobile Source Air Pollution Reduction Review Committee (MSRC). The MSRC awards funding within the South Coast Air Basin from a portion of the state vehicle registration fee for projects that help bring clean air by reducing traffic in the L.A. area. Metro is providing the remaining funding from its operations budget.
For specific route and schedule information visit metroexemplifi.wpengine.com or call (323) GO-METRO (323) 466-3876.
For more information, please visit metroexemplifi.wpengine.com/riding/dodger-stadium-express/.
About Metro

The Los Angeles County Metropolitan Transportation Authority (Metro) is building the most ambitious transportation infrastructure program in the United States and is working to greatly improve mobility through its Vision 2028 Plan. Metro is the lead transportation planning and funding agency for L.A. County and carries about 800,000 boardings daily on a fleet of 2,200 low-emission buses and seven rail lines.

Stay informed by following Metro on The Source and El Pasajero at metro.net,facebook.com/losangelesmetro, twitter.com/metrolosangeles and twitter.com/metroLAalerts and instagram.com/metrolosangeles.