The Los Angeles County Metropolitan Transportation Authority (Metro) is welcoming a new member to its Board of Directors.
Whittier Councilmember Fernando Dutra was sworn in on March 17 to replace Long Beach Mayor Robert Garcia, who has left the Board. The 14-member Board oversees the agency.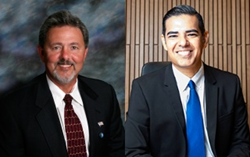 Councilmember Dutra steps in to represent the Gateway Cities in Southeast Los Angeles County after Garcia decided not to seek reelection to the Metro Board. Dutra has served the city of Whittier since joining the city's planning commission in 2006. In 2012, he was appointed to the City Council, where he went on to be elected to a citywide seat in 2014 and then to serve District 4 in 2018. Dutra has long been focused on transportation issues and has chaired the Metro Light Rail Extension Project Washington Boulevard Coalition.
Mayor Garcia served four years on the Metro Board of Directors. He was first elected to the Long Beach City Council in 2009. He was elected as the youngest, first Latino and first openly gay mayor of Long Beach in 2014. He joined the Metro Board of Directors in 2017, where he was an ardent advocate for bike and pedestrian infrastructure and for Metro's "New Blue" A Line (Blue) improvements project.
Dutra joins new Metro Board Members County Supervisor Holly J. Mitchell and Pomona Mayor Tim Sandoval who, took their seats in January, replacing former Duarte Councilmember John Fasana and Los Angeles City Councilmember Mark Ridley-Thomas.
The rest of the Metro Board is comprised of Mayor Garcetti, Los Angeles County Supervisor Kathryn Barger, Los Angeles City Councilmember Mike Bonin, Inglewood Mayor James Butts, Los Angeles Mayoral-appointee Jacquelyn Dupont-Walker, Los Angeles County Supervisor Janice Hahn, Los Angeles City Councilmember Paul Krekorian, Los Angeles County Supervisor Sheila Kuehl, Glendale City Councilmember Ara Najarian, Los Angeles County Supervisor Hilda Solis and Caltrans District 7 Director Tony Tavares.
Members serve terms of four years and oversee an annual budget of about $7 billion at LA Metro.
For more information about the Metro Board of Directors, visit https://lbt-preprod.la-metro-web.net/about/board-administration/.
About Metro
The Los Angeles County Metropolitan Transportation Authority (Metro) is currently providing lifeline service for essential trips and frontline workers. Metro continues building the most ambitious transportation infrastructure program in the United States and is working to greatly improve mobility through itsVision 2028 Plan.
Metro has proudly pledged to the American Public Transportation Association (APTA) Health and Safety Commitment Program to help ensure the safe return of transit riders as the U.S. recovers from the COVID-19 pandemic.
Stay informed by following Metro on The Source and El Pasajero at metro.net, facebook.com/losangelesmetro, twitter.com/metrolosangeles and twitter.com/metroLAalerts and instagram.com/metrolosangeles.