Ridership reaches nearly 90 percent of pre-pandemic level on weekends
The Los Angeles County Metropolitan Transportation Authority (Metro) announced today that it delivered more than 23.4 million rides in April 2023, averaging about 880,000 weekday riders on the expansive bus, rail, and micro transit system. Total system ridership in April 2023 was 10 percent higher than in April 2022, reaching the highest ridership level recorded since the onset of the coronavirus pandemic in March 2020.
"It's encouraging to see so many people coming back to Metro after a tough pandemic period for ridership" said Glendale City Council Member and Metro Board Chair Ara J. Najarian. "We've taken bold steps to improve system safety and the customer experience over the past year, and I think people are starting to see the results of those investments."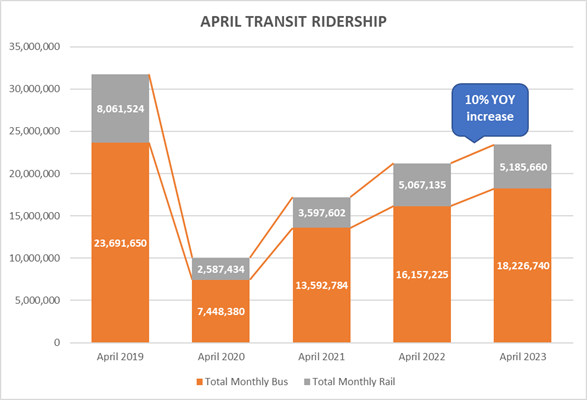 More than 18.2 million rides were delivered on Metro buses during the month, along with almost 5.2 million rides on the rail system. Ridership was especially high on weekends in April, rising 14 percent year over year and reaching 88 percent of its April 2019 level, before the pandemic began.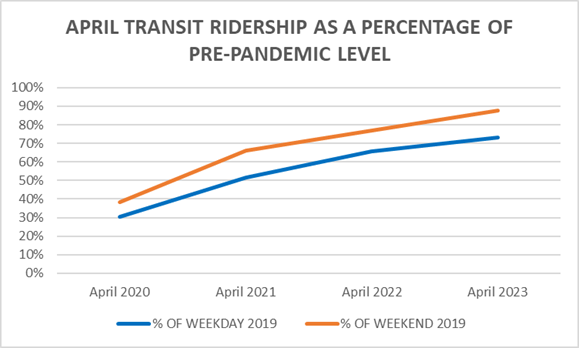 "While remote work continues to depress our weekday ridership, I'm pleased that we've recovered nearly 90 percent of our pre-pandemic ridership on the weekends," said Stephanie Wiggins, CEO of Metro. "People are continuing to choose Metro for their weekend activities because it is fast, frequent, safe, and gets them to where they want and need to go. There's a lot more to do to bring more riders back to transit, but we're encouraged by the fact that our ridership numbers continue to trend upward."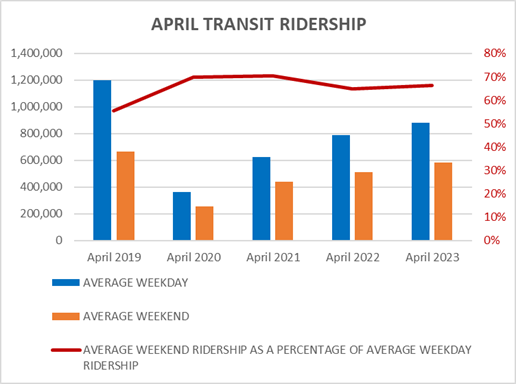 Weekend ridership has become a bigger share of Metro's overall ridership over the past three years. In April 2019, average weekend ridership was just 55 percent of average weekday ridership. In April 2023, average weekend ridership was 66.4 percent of the average weekday ridership.
Over the past year, Metro has taken aggressive steps to ensure its transit service is fast, frequent, friendly, and safe. In the past year, Metro has:
Fully restored bus service to its pre-pandemic level, making many lines faster and more frequent
Opened the initial operating segment of the K Line, from Expo/Crenshaw Station in Los Angeles to Westchester/Veterans station in Inglewood
Hired more than 1,000 new transit operators to ensure adequate staffing levels for transit service
Added more than 300 Metro Ambassadors to the transit system to improve customer service
Implemented a new multi-layered public safety approach to increase the visible presence of both armed and unarmed security and customer care personnel on the system
Implemented a Drug-Free Metro campaign focused on drug-related crimes with increased enforcement by our law enforcement partners targeting the hotspots throughout the system resulting in cleaner, safer transit experiences for our riders
Initiated a pilot program at Westlake/MacArthur Park station to improve security and cleanliness, including improved lighting, closing off underused entrances and hallways, playing music to deter loitering, adding more and better closed-circuit cameras, and increasing the uniformed presence of custodians, Metro Ambassadors, Transit Security, and law enforcement partners
Metro has also stepped up its efforts to make transit more accessible and affordable through its fareless and reduced-price transit pass programs. Usage of Metro's GoPass pilot program, which gives free transit passes to K-12 and community college students in participating schools, is up 57 percent year over year. Usage of Metro's Low-Income Fare is Easy (LIFE) program, which gives free rides and discounted fares to people with low incomes, went up 44 percent year over year, from April 2022 to April 2023.
About Metro
The Los Angeles County Metropolitan Transportation Authority (Metro) is building the most ambitious transportation infrastructure program in the United States and is working to greatly improve mobility through its Vision 2028 Plan. Metro is the lead transportation planning and funding agency for L.A. County and carries about 880,000 boardings daily on a fleet of 2,200 low-emission buses and six rail lines.
Stay informed by following Metro on The Source and El Pasajero at metro.net,
facebook.com/losangelesmetro, twitter.com/metrolosangeles and twitter.com/metroLAalerts and instagram.com/metrolosangeles.