The Los Angeles County Metropolitan Transportation Authority (Metro) today held a groundbreaking ceremony to mark the beginning of construction on the $898.6-million Airport Metro Connector Project that will directly connect the Metro system to the Los Angeles International Airport (LAX).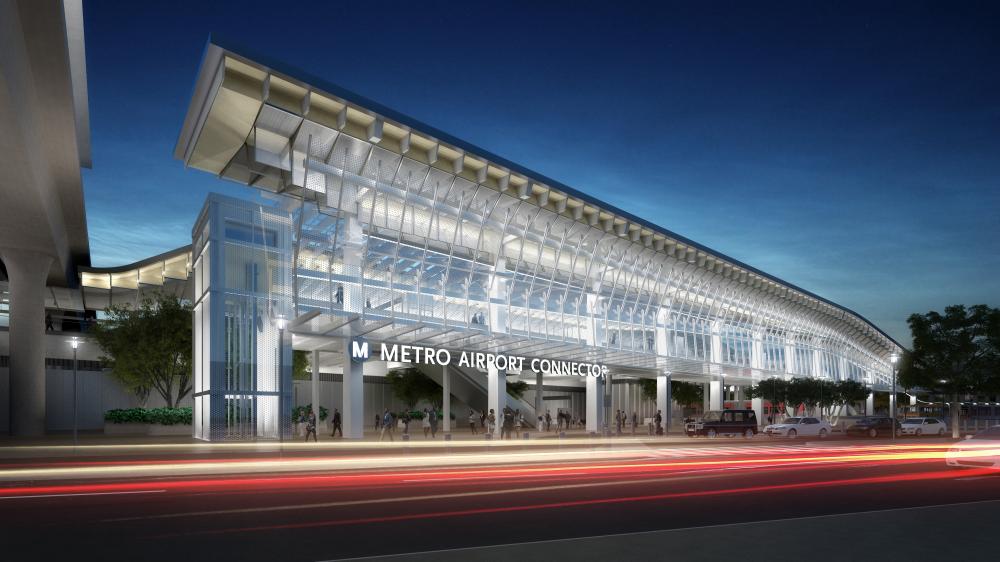 The Airport Metro Connector Project (AMC) is the ninth station along the Crenshaw/LAX Line currently under construction and will connect directly with the Los Angeles World Airports (LAWA) Automated People Mover project — presently being built — that connects directly with the airport passenger terminals.
"Everyone traveling to or from LAX should have access to modern, reliable public transportation that gets them to their destination on time," said Los Angeles Mayor and Metro Board Chair Eric Garcetti. "The Airport Metro Connector is a historic step toward reimagining how travelers experience our airport — a turning point that will be a source of jobs and economic growth, reduce congestion, and help our airport realize its potential as a world-class gateway to Los Angeles."
The new AMC station will be located at Aviation and 96th Street. The project includes platforms to access Metro light rail trains, and an expansive 16-bay bus plaza that will serve Metro and other municipal bus operators including Santa Monica Big Blue Bus, Culver City Bus, Torrance Transit, GTrans (Gardena) and Beach Cities Transit.
In addition, the station features a bike hub, a private vehicle drop-off zone and easy access to the LAX people mover, a new Metro customer service center, interactive information kiosks, public restrooms and commercial space for tenants who will provide passenger conveniences.
"This is an exciting project that will serve as the 'Gateway' to LAX for future generations — just as LAX has long served as the gateway to Southern California for so many millions of people," said Metro CEO Stephanie Wiggins. "The AMC station will also provide multiple connections to the Metro system and will help airport-area employees and travelers easily get to wherever they need to go in our region."
The rail station portion of the project will contain two light rail platforms that will be easily accessed via escalators and elevators, new ADA compliant swing door faregates to allow for smooth passage with luggage and a full roof covering over the entire platform.
The project has been designed to achieve a Leadership in Energy and Environmental Design (LEED) Gold rating with sustainable features that include 550,000-plus kilowatts of solar panels, large native landscaping areas and electric bus charging stations. The AMC project is forecast to be completed in 2024.
For photos of today's groundbreaking event visit: https://lametro.smugmug.com/Metro-Events/Airport-Metro-Connector-groundbreaking/
For more information on the Airport Metro Connector Project visit: https://lbt-preprod.la-metro-web.net/projects/lax-extension/
Additional Quotes:
"Not only is LAX one of the busiest airports in the world, it's a job center for Angelenos, particularly for those who reside in South Los Angeles, said Los Angeles County Supervisor and Metro Board Member Holly Mitchell. "As we enter the final stages of construction on Crenshaw LAX, the Airport Metro Connector will serve as an essential bridge to the airport for visitors, residents, and our vital aviation workforce."
"Reagan once said the most terrifying words in the English language were, 'I'm from the government and I'm here to help.' We know they are actually 'Hey, can you give me a ride to LAX?' In a few short years, with the construction of this project and the Automated People Mover, your answer will be 'No way—take Metro!," said Los Angeles County Supervisor and Metro Board Member Janice Hahn.
"The Airport Metro Connector Station will be a new Union Station for the Westside, connecting residents and employees to bus and rail, and welcoming travelers from all over the world to Southern California," said Metro Board Member and LA City Council Member Mike Bonin. "Thanks to incredible collaboration and coordination between Metro and the airport, future travelers will experience a modern and seamless transfer from planes to buses and trains that can take them nearly anywhere in Los Angeles. This groundbreaking is a pivotal milestone in our effort to give residents and visitors alike real alternatives to sitting in traffic."
"Today marks a major milestone in connecting the entire Metro system to one of the busiest airports in the country with a state-of-the-art transportation facility that will be used by thousands of riders each day," said James T. Butts, Inglewood Mayor and Metro Board Member. "Improving transportation mobility options is key to growing ridership and getting people out of their vehicles and onto public transit."
"This project, once completed, will make navigating the Metro system with a direct connection to LAX easy to use and convenient for riders offering a safe passageway to this busy airport," said Whittier Council Member and Metro Board Member Fernando Dutra. "Metro serves many destinations throughout the Los Angeles County region, and this project make connecting to those destinations a reality for travelers arriving at LAX."
"Today is a monumental day, not only for our friends at Metro, but for all of us at Los Angeles World Airports, as we move one step closer to our vision for a connected, seamless journey to and from LAX," said Justin Erbacci, Chief Executive Officer, Los Angeles World Airports. "This long-awaited connection to the regional transportation system will create new options for our guests and employees to get to LAX – and we look forward to the future connection to our Automated People Mover train system."
About Metro
The Los Angeles County Metropolitan Transportation Authority (Metro) is currently providing lifeline service for essential trips and frontline workers. Metro continues building the most ambitious transportation infrastructure program in the United States and is working to greatly improve mobility through its Vision 2028 Plan.
Metro has proudly pledged to the American Public Transportation Association (APTA) Health and Safety Commitment Program to help ensure the safe return of transit riders as the U.S. recovers from the COVID-19 pandemic.
Stay informed by following Metro on The Source and El Pasajero at metro.net, facebook.com/losangelesmetro, twitter.com/metrolosangeles and twitter.com/metroLAalerts and instagram.com/metrolosangeles.