The Los Angeles County Metropolitan Transportation Authority (Metro) and the Los Angeles Department of Transportation (LADOT) have relaunched an improved Metro Bike Share System on the Westside in time for Bike Month in May.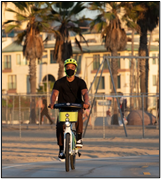 The bike share stations will provide convenient access to local destinations including Venice Beach and Bike Path, Abbot Kinney Boulevard, the Rose District, Downtown Mar Vista, Motor Avenue in Palms, the Museum of Jurassic Technology, Playa del Rey, Dockweiler State Beach, the Ballona Creek Bike Path, and the E Line (Expo). For a map of all available Westside stations and bicycles, visit https://bikeshare.metro.net/stations/.
"Coming back stronger from COVID-19 requires us to reimagine how we interact with our public spaces — and that means rethinking how we can access them on two wheels," said Los Angeles Mayor and Metro Board Chair Eric Garcetti. "Bringing these new bike share improvements to the Westside is a clear sign of our commitment to expand clean, healthy transportation options to Angelenos across our city."
Westside residents will have a new opportunity to ride Metro on the E Line from downtown L.A. to Santa Monica, where several stations are conveniently located to bike to the beach, biking trails, and other destinations.
Additional stations will be sited in Westside communities along the E Line including Westwood and Sawtelle. With the conversion, electric bikes will now be available to riders from Downtown LA to the Westside.
"I'm incredibly excited to give people more options to get around the Westside with the relaunch of Metro Bike Share, now including e-bikes," said L.A. City Councilmember and Metro Director Mike Bonin. "Metro Bike Share was already a convenient option for short trips around the neighborhood and to get to the Expo Line. With service now spanning from Playa Del Rey to Sawtelle—and with the added boost of electric power—everything that the Westside has to offer is just a short bike ride away."
Metro temporarily suspended its bike share program on the Westside last September to remove all "Smart Bikes" from its Westside service offerings. The agency's Smart Bikes are not required to be physically docked to a bike share station. The bikes contain geofencing limitations that restrict their ability to be used outside the Westside area without incurring additional service fees. Classic Bikes, which are station-based and include an electric-assist option, have higher ridership and are simpler to use. Metro's vendor converted the Westside fleet at no cost to the agency.
"With bike share available again on the Westside, Metro is continually improving our customers' experience and giving them greater choices for their personal mobility," said Metro CEO Phillip A. Washington. "Bike Share is one of our key initiatives to improve first/last mile access to and from our stations. The combination of transit and bike share can help everyone better access local destinations and help reduce auto trips in our county."
The selection of Westside station locations was based in part on community feedback. The program is administered by Metro in partnership with LADOT.
"We continue to grow our partnership with Metro, determined to bring bike share to every corner of Los Angeles," said LADOT General Manager Seleta Reynolds. "As our network of stations expands, so do options for Angelenos who need and deserve more choices to get around town and enjoy our city."
There are now 1,500 Metro Bikes and 209 stations located on the Westside, Central and Downtown LA, and North Hollywood.
"The Metro Bike Share Program is redefining personal transportation and public health across Los Angeles," said L.A. City Councilmember Paul Krekorian, a Metro Board member and ardent supporter of the concept. "The re-introduction of these bikes will enhance the effort by increasing accessibility to other transit options available to Westside residents."
"I believe that this program relaunch is a much needed post-COVID shot in the arm as the program expands deeper into Council District 5," said L.A. City Councilmember Paul Koretz. "I encourage our constituents to come check out these new bicycles."
Every May Metro and the Southern California region celebrate bicycling as a sustainable and healthy transportation mode. This year, Metro will recognize Bike Month in May 2021, including Bike Anywhere Day (Friday, May 21) that will coincide with Bike Week (May 17-23, 2021). Additional information on Bike Month can be found at https://lbt-preprod.la-metro-web.net/bikemonth.
For regular updates on new station installations, follow @bikemetro on Twitter, Instagram and Facebook. For additional information on new services, options and incentives, visit Metro Bike share website at metroexemplifi.wpengine.com/bikeshare.
About Metro
The Los Angeles County Metropolitan Transportation Authority (Metro) is currently providing lifeline service for essential trips and frontline workers. Metro continues building the most ambitious transportation infrastructure program in the United States and is working to greatly improve mobility through its Vision 2028 Plan.

Metro has proudly pledged to the American Public Transportation Association (APTA) Health and Safety Commitment Program to help ensure the safe return of transit riders as the U.S. recovers from the COVID-19 pandemic.

Stay informed by following Metro on The Source and El Pasajero at metro.net, facebook.com/losangelesmetro, twitter.com/metrolosangeles and twitter.com/metroLAalerts and instagram.com/metrolosangeles.