I-405 Comprehensive Multimodal Corridor Plan
Metro has a plan to make it easier to get around, with multiple efforts to improve travel in this complex and severely congested area.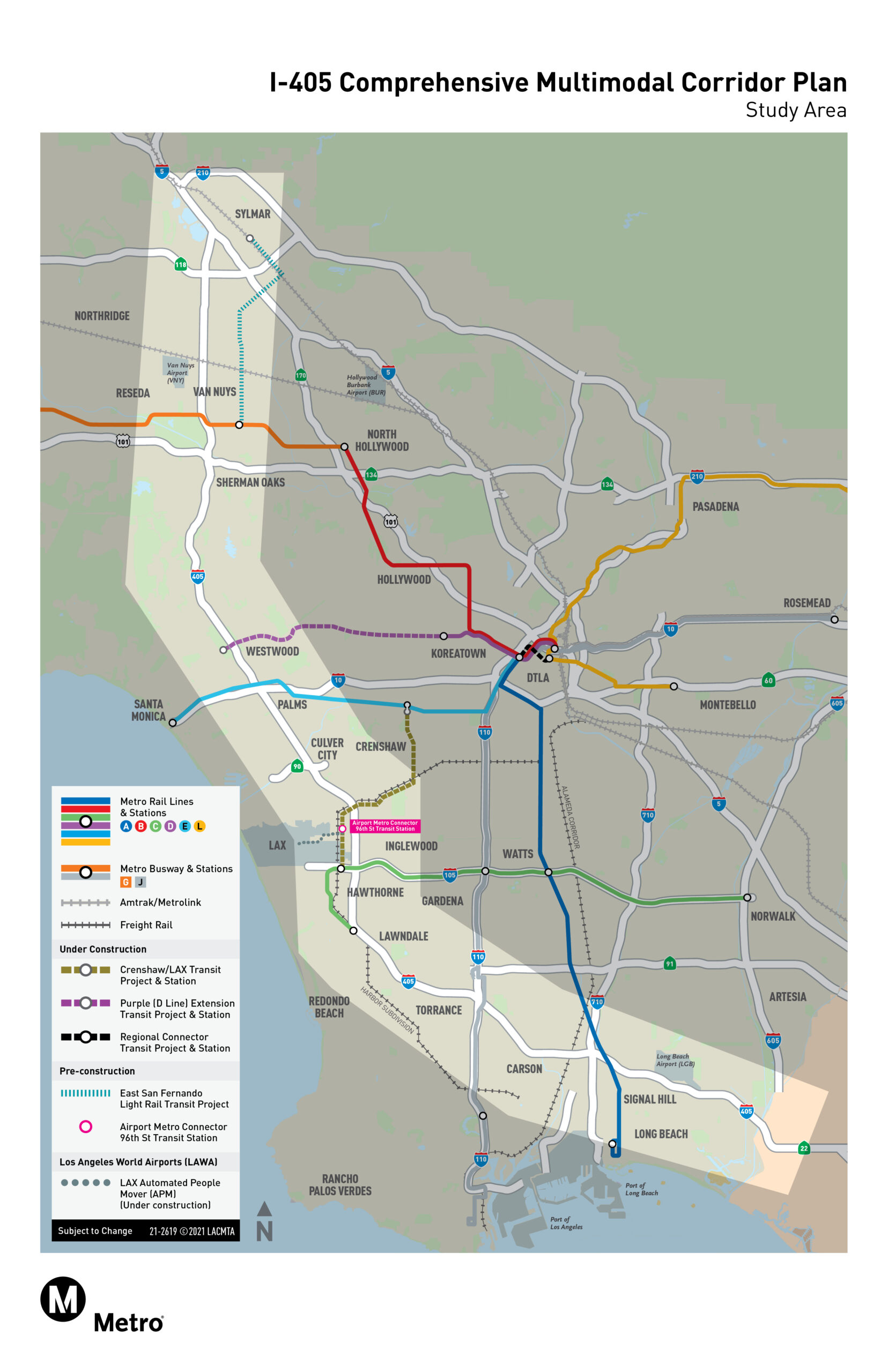 Location:
Gateway Cities, San Fernando Valley, South Bay Cities, Westside Cities
The I-405 Comprehensive Multimodal Corridor Plan (CMCP) creates a guiding vision to reimagine the possibilities for getting around one of the most congested corridors in LA County. Metro is preparing a qualifying CMCP in order to compete for and secure a portion of the $250 million in state funding that is made available through Senate Bill (SB) 1 Solutions for Congested Corridors Program (SCCP). This critical funding supports Metro's ability to deliver Measure R and Measure M. 
The plan's study area covers the entire length of the I-405 in LA County and three miles on either side. It stretches from the San Fernando Valley to the Orange County Line to include 20 individual cities and 40 neighborhoods within the City of Los Angeles.  
The goal of this planning effort is to understand the diverse users and communities relying on and impacted by the I-405 Corridor, solicit their feedback and show how multimodal improvements can reduce congestion, move more people, increase accessibility for all users and support and advance ​equitable outcomes for historically disadvantaged communities.
In September 2022, the Metro Board adopted the I-405 CMCP. View the I-405 CMCP and project list.    
In Fall 2022, staff assessed and nominated Tier 1 and Tier 2B projects for the Solutions for Congested Corridor Program (SCCP) grant funding cycle. Projects/Programs nominated included the following:
Metro Light Rail CORE Capacity & System Integration Project
This project will extend the LAX/Aviation Station platform and add two additional traction power substations that will allow for the future operation of three-car trains on the Metro K Line when it connects to the Metro C (Green) Line.
Metro's I-405 Corridor Community Bus Service Improvement Program
This program includes the electric bus purchases that will support the North San Fernando Valley Transit Corridor Project as well as the Venice Boulevard Bus Speed and Reliability Improvement Project that would add bus boarding islands, upgrade bus shelters, and add real-time travel information as the second phase of the City of Los Angeles' Venice Boulevard Mobility Improvement Project. 
City of Long Beach Shoreline Drive Gateway: Corridor Realignment & Community Connections Project
This project is an early action component of the Shoemaker Bridge Project, which will reconfigure an existing highway ramp and add multimodal infrastructure for vehicles, pedestrians, and bicyclists to improve multimodal transportation operations and safety.
SCCP Cycle 3 grant recipients are anticipated to be announced by the California Transportation Commission (CTC) in June 2023.
For more information, please visit our interactive StoryMap and read our fact sheet.   
Sign up here for project updates.
For general questions: