I-5 North County Enhancements Project
Metro has a plan to make it easier to get around LA, with projects that ease congestion on our freeways. The I-5 North County Enhancement project will add carpool lanes and more space for trucks to create a better and safer drive on this busy stretch of freeway.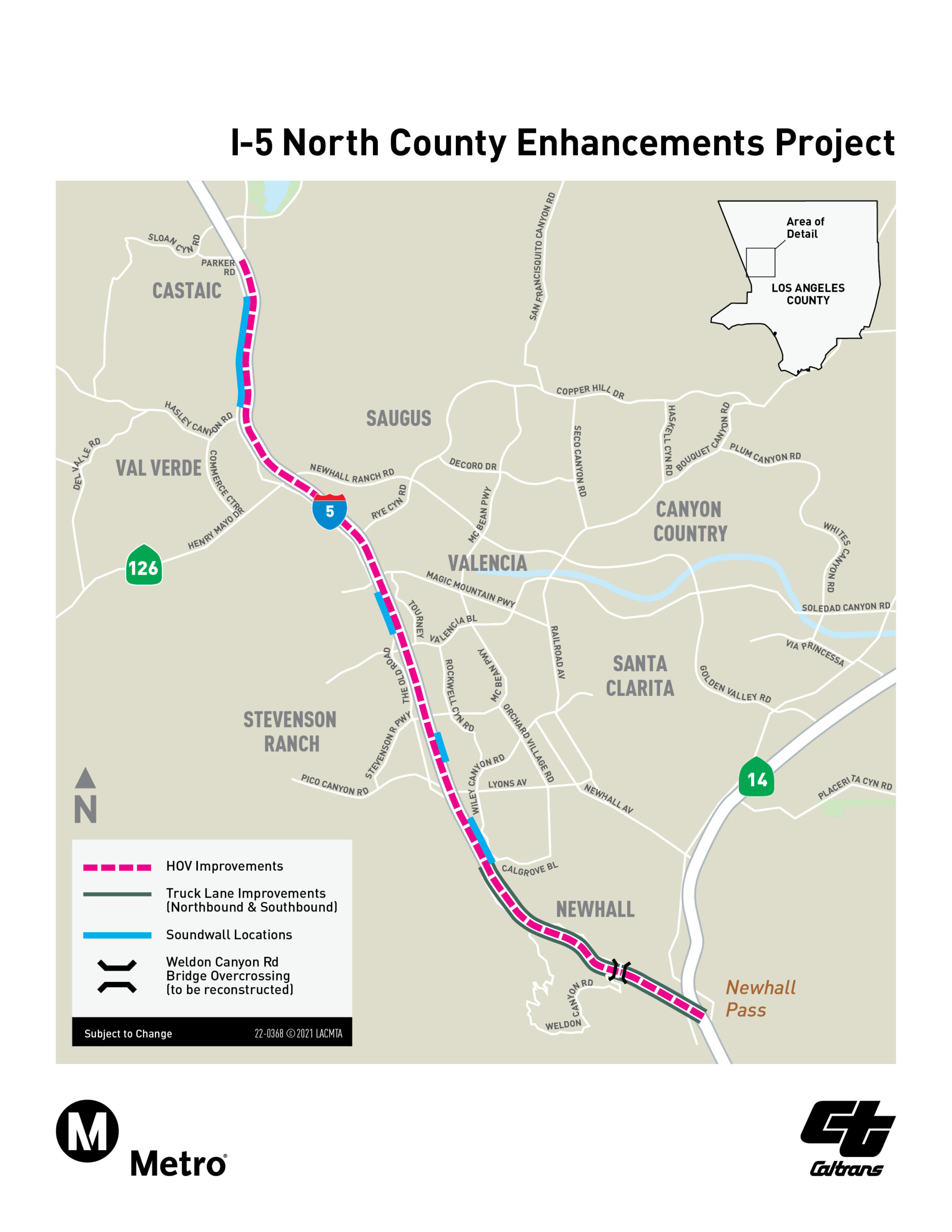 Santa Clarita, which is now the third-largest city in LA County, is expected to increase its population by more than 25,000 people by 2035 as documented in the City of Santa Clarita's One Vision One Valley Plan. To prepare for this increase and relieve congestion in the Santa Clarita Valley, Metro and Caltrans District 7, will be making operational and safety enhancements along the Interstate 5 (I-5) freeway in the northern part of LA County from the State Route 14 (SR-14) interchange in Santa Clarita to just south of Parker Rd in Castaic.
The enhancements include:
Addition of one High Occupancy Vehicle (HOV)/carpool lane in each direction along I-5
Extension of the northbound truck lane from SR-14 to Calgrove Bl
Addition of southbound truck lane from Calgrove Bl to SR-14
Addition of soundwalls at four locations
Replacement of Weldon Canyon Bridge
Intelligent Transportation System (ITS) improvements between the I-405 and I-210 interchanges
Addition of auxiliary lanes (additional outside lanes extending between an on-ramp and a subsequent off-ramp).
These enhancements will augment safety on the freeway by increasing access for merging and offering trucks a separate lane from the general-purpose lanes (GPLs) and are expected to provide a much faster and smoother driving experience in the area for locals and travelers.  Additionally, they are part of a multi-phase program identified in Metro's Long Range Transportation Plan to ease congestion in LA County.
Project construction is anticipated to be completed in 2026.
Phone: 213.922.2772
Email: i5enhancements@metro.net