Los Angeles County Rail Network Integration Study
Metro's Rail Network Integration Study for Los Angeles County will look at opportunities to integrate services between Metro's transit network with the statewide commuter rail system.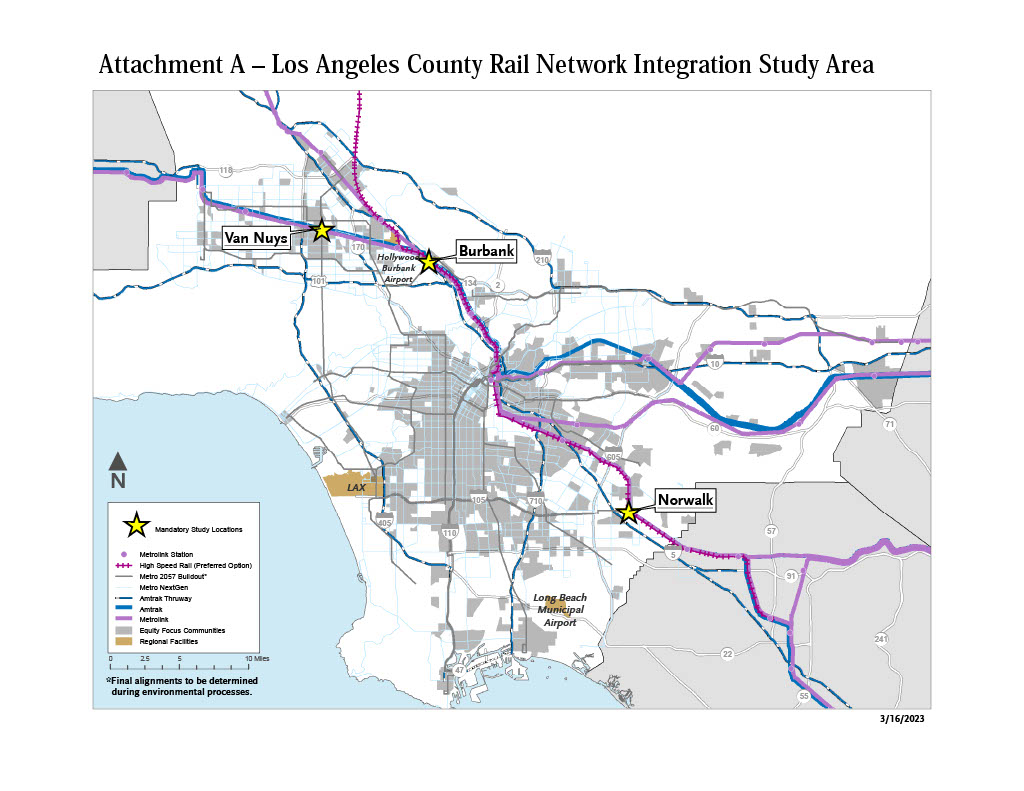 Location:
Arroyo Verdugo Cities, Gateway Cities, San Fernando Valley
Metro has a plan to make it easier to move around LA County with seamless transfers and expanded access.
Metro's Rail Network Integration Study for LA County will explore opportunities for integrating services between Metro's transit network, the statewide commuter rail system (Metrolink/Amtrak), and future High Speed Rail stations in LA County. The study aims to identify policy recommendations, infrastructure improvements, and operational enhancements for three regional hubs with the greatest opportunities for transfers outside of downtown Los Angeles:
Van Nuys Metrolink Station,
Burbank's Metrolink stations (Downtown Burbank and Burbank Airport Stations),
and Norwalk/Santa Fe Metrolink Station combined with the adjacent Metro C Line Norwalk Station
This study supports the goals of the Metro Vision 2028 Strategic Plan, as well as the 2018 and 2023 California State Rail Plan by planning for seamless travel experiences across rail and public transit in California, with benefits for social equity and sustainability. The intent of this study is to facilitate interagency coordination on infrastructure investments and to provide a roadmap to implement features of the State Rail Plan.
Since initiating the study in Summer 2021, staff has conducted two rounds of targeted stakeholder briefings to better understand the needs and priorities for network integration and to identify potential connectivity opportunities.
In Spring 2023, staff plans to invite Community-Based Organizations (CBOs) to convene a focus group for renewed discussions around potential infrastructure investments and operational enhancements that can help better integrate the regional transit network while removing barriers and reducing friction points for existing and future riders. Pending feedback from the CBOs engagement process and targeted stakeholder interviews in Spring 2023, the Study team will advance design and policy recommendations. The draft study report is anticipated by Summer/Fall 2023.
Staff Contacts:
Jill Y. Liu, Sr. Manager, Countywide Planning
Jefferson Isaí Rosa, Sr. Manager, Community Relations
213.922.4640
RNIS@metro.net