North San Fernando Valley Transit Corridor
Metro has a plan to make it easier to get around LA with better transit across the North Valley. The North San Fernando Valley Transit Corridor Project (North SFV) will improve east-west transit service with better access to jobs, education and essential services.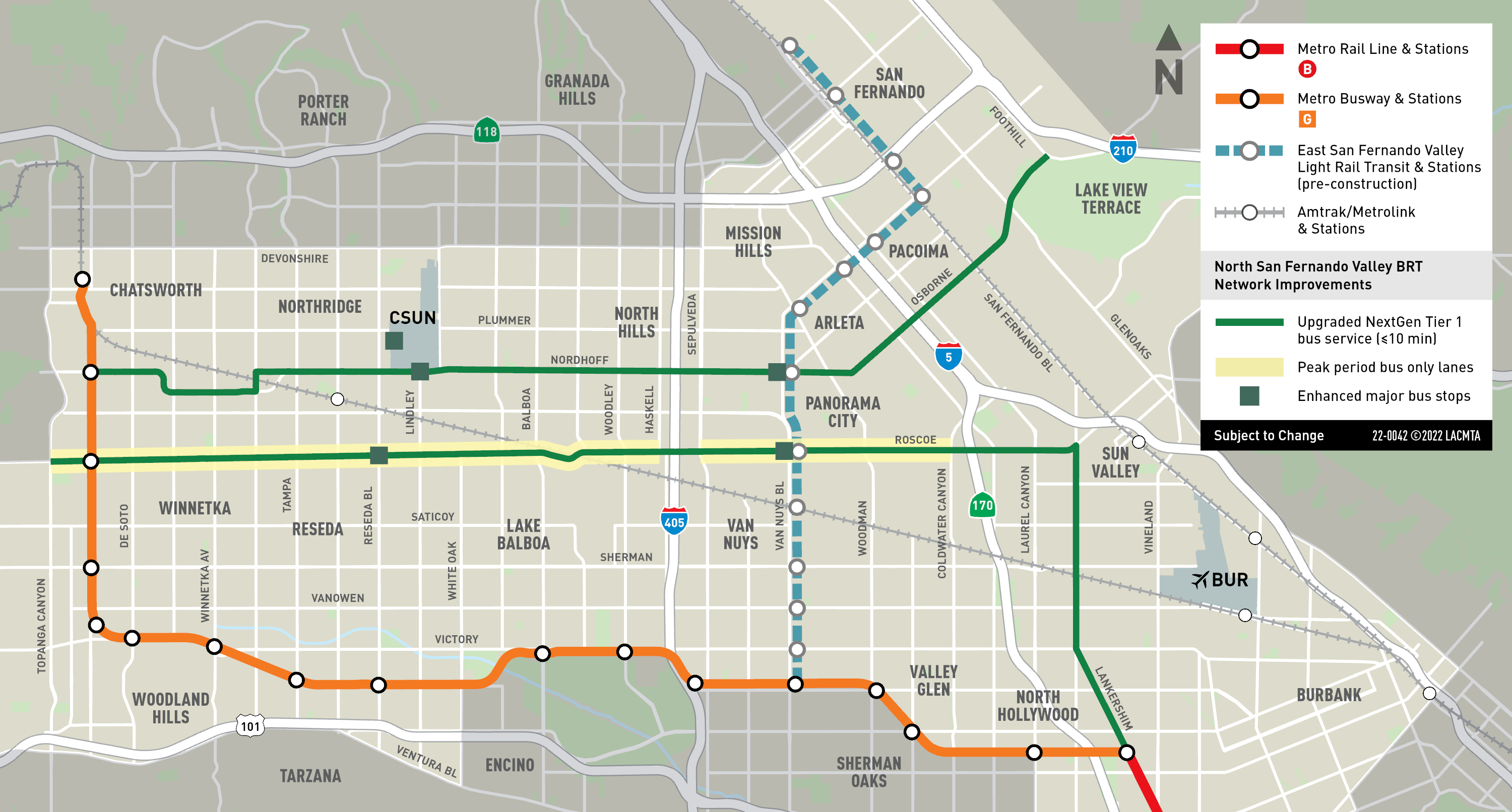 Location:
San Fernando Valley
Forecasted Opening:
2023-2025
The North San Fernando Valley Transit Corridor Project consists of an enhanced bus network that will increase connectivity and provide high-quality bus service and transit infrastructure in North San Fernando Valley communities from Northridge on the west to North Hollywood on the east. This new approach, called the BRT Network Improvements, builds off of extensive outreach and Metro Board direction following prior studies and completion of an Alternatives Analysis for a single-line Bus Rapid Transit (BRT) project in 2019.
The North San Fernando Valley Transit Corridor Project complements other Metro efforts, including the NextGen Bus Plan, East San Fernando Valley Light Rail, North Hollywood to Pasadena Transit Corridor, Sepulveda Transit Corridor, G Line (Orange) Improvements, and Metro Micro, to create better public transportation across the valley by adding faster and more reliable bus service.
North San Fernando Valley Transit Corridor Project Overview Video 
The primary corridors to be improved through the BRT Network Improvements include Roscoe Boulevard, Nordhoff Street and Lankershim Boulevard, with additional improvements planned for Reseda Boulevard, Sherman Way, Vanowen Street and Victory Boulevard. These include a number of capital and operational improvements, such as:
> Service and amenity improvements:
Improved service frequency daytime weekdays to every 10 minutes for the Roscoe Line 152 and Nordhoff Line 166
New bus shelters at nearly 400 locations
Significant bus top amenity improvements for bus stops at five key transfer locations, including larger shelters, more seating, new real time and wayfinding information, and better lighting
75 new zero emission electric buses for Lines 152, 162, 166 and 240
> Bus speed and reliability improvements:
New peak hour only bus lanes (7–10am, 3–7pm) weekdays on 10.5 miles of Roscoe Bl
Transit signal priority added for up to seven bus lines (152, 162, 164, 165, 166, 224, and 240)
New bus stop design (bus bulbs) to avoid delays for buses merging in and out of traffic at over 80 stops
All-door boarding on all bus lines in the San Fernando Valley
The Metro Board of Directors approved the project at their December 1, 2022 Regular Board Meeting, which also approved the project environmental clearance through an exemption from the California Environmental Quality Act (CEQA) under Senate Bill 288 (SB 288).  The Board Report can be accessed here.
SB 288, signed into law on September 28, 2020, provides a new statutory California Environmental Quality Act (CEQA) exemption for transit prioritization projects which may include transit signal priority, conversion of general-purpose lanes to peak-hour bus-only lanes, and bus stop enhancements on existing public rights-of-way (ROW).
SB 288 accelerates sustainable transportation projects by providing an exemption from CEQA for a targeted set of sustainable transit projects, "active transportation" (walking and biking) projects and projects that expand sustainable mobility.
Learn more about the project by visiting the online StoryMap and explore the interactive maps and information on your own time.
Project implementation is expected to begin in fall 2023 and be completed by winter 2025.
Submit feedback:
Fill out comment form
For general questions:
213.418.3082