Persons with Disabilities
Apply for a Reduced Fare TAP card and save up to 80% off regular Metro fares.
How much does it cost for Persons with Disabilities?
| Type | Fares |
| --- | --- |
| 1-Way | 75¢/35¢* |
| 1-Day Pass | $2.50 |
| 30-Day Pass | $20 |
| LIFE 30-Day Pass (low-income) | $12 |
* Off-Peak rates apply weekdays 9am – 3pm & 7pm – 5am; weekends & Federal holidays.
*Fare payment with TAP includes 2 hrs of unlimited transfers to Metro rail and bus in one direction (no roundtrips).
Add'l 60¢ charge for the Silver Line and the Express Bus Lines 460 , 487 , 489 , 501 , 550 , and 577
Add'l charge for a transfer to non-Metro buses within 2.5 hrs varies by agency.
TAP is a reloadable fare card that offers the most convenient and flexible way to pay your fare on Metro bus and rail.  It is also valid for travel with 25 transit agencies across LA County. Load, Tap and Go! 
How to get a Reduced Fare TAP card for Persons with Disabilities
Apply at a Metro Customer Center.
Make sure you have proper documentation and an image of yourself in the correct size.
Gather all the requirements and apply online. Reduced Fare TAP cards will be mailed to eligible applicants within 20 business days after verification has been completed.
A TAP card costs $2 plus fare and includes transfers to Metro rail and bus. For additional TAP questions please visit taptogo.net or call 866.827.8646.
Buy a regular TAP card online
Register your TAP card by calling 866.TAPTOGO for:

Balance protection: If your card is lost or stolen you can recover the balance and transfer it to a new card.
Ability to transfer a remaining balance from one TAP card to another
Consolidation of remaining balances from several TAP cards to one
Exact change is accepted on buses that do not have All-Door Boarding. Transfers are not included.
To ride Metro Rail, you must pay with a TAP card.
ALERT: Metro tokens are no longer accepted as payment.
Additional ways for persons with disabilities to save when riding Metro
If you frequently ride Metro in combination with other transit systems, EZ Pass could provide additional savings.
Metro's Rider Relief Program is now the LIFE (Low-Income Fare is Easy) program. Qualifying riders can save even more on fares on Metro and participating transit systems with LIFE benefits.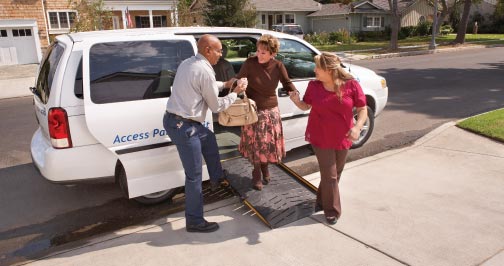 A shared-ride service for persons with disabilities that serves as a more accessible alternative to using regular bus and light rail services.