TAP is a reloadable fare card that offers the most convenient and flexible way to pay your fare on Metro bus and rail.  It is also valid for travel with 25 transit agencies across LA County. Load, Tap and Go! Learn how to TAP.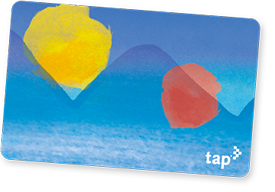 A TAP card costs $2 plus fare and includes transfers to Metro rail and bus. For additional TAP questions please visit taptogo.net or call 866.TAPTOGO (866.827.8646).
Where to buy/reload a TAP card
Exact change is accepted on buses that do not have All-Door Boarding. Transfers are not included.
To ride Metro Rail, you must pay with a TAP card.
Alert
Metro tokens are no longer accepted as payment.