Metro Active Transport, Transit and First/Last Mile Program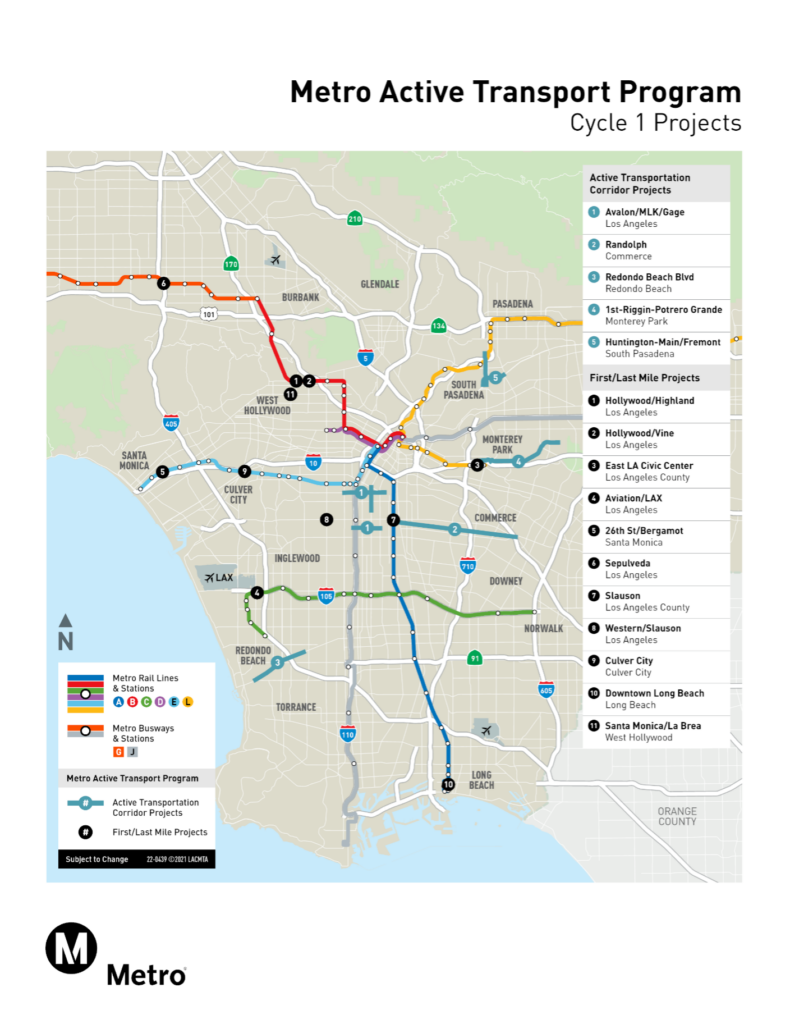 Measure M established the Metro Active Transport, Transit and First/Last Mile (MAT) Program, which, over the course of 40 years, is anticipated to fund more than $857 million (in 2015 dollars) in active transportation infrastructure projects throughout the region. This is a competitive discretionary program available to municipalities in LA County and will fund projects to improve and grow the active transportation network and expand the reach of transit. The purpose of the MAT Program is to encourage increased use of active modes of transportation, such as biking and walking, and enhanced pedestrian and bicycle safety. 
The Active Transportation Strategic Plan and Equity Platform Framework are the core policies shaping the program. Projects will be funded based on need, with priorities established using a variety of data, such as socio-economic factors, safety for active mode users, health and existing conditions of physical infrastructure for active modes. The Program will operate in two five-year cycles. The Metro Board of Directors approved projects receiving Cycle 1 awards in January 2021. 
The first cycle of the MAT Program followed the process described in the MAT Program Administrative Procedures and further delineated in the Cycle 1 Solicitation. This cycle's solicitation opened on February 18, 2020, and the application deadline closed on Thursday, April 30, 2020.
Goals
Advancing key Metro policies: Active Transportation Strategic Plan (ATSP), First/Last Mile (FLM) policy, and the Equity Platform Framework
Initiating implementation of ATSP-identified First/Last Mile projects and regional active transportation corridors
Jump-starting action and building momentum for future efforts; creating visible, tangible results; and setting the groundwork for implementation at the broad scale envisioned by ATSP
Encouraging, testing, and refining project partnerships and innovative delivery approaches
Targeting investments in high need areas
Two Programmatic Categories 
First/Last Mile Priority Network around major transit stations
Active Transportation Corridor Priority Network countywide
Funding Years
Projects
For Cycle 1, Metro will fund projects identified on the prioritized lists. First/Last Mile locations and Active Transportation Corridor projects eligible for Cycle 1 funding were identified using a screening and prioritization criteria that considered equity, safety, and mobility/connectivity factors. For further resources, including maps of project locations, please see the MAT Cycle 1 folder in the above Documents link.